One of Trump's warmest meetings with a world leader yet was Narendra Modi, an accused fascist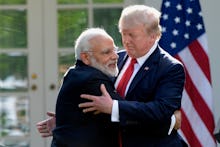 President Donald Trump enjoyed one of the warmest receptions of his administration by a foreign leader on Monday by Indian Prime Minister Narendra Modi, the leader of the far-right Hindu nationalist party BJP who is often described as a fascist.
Following their meeting at the White House, Trump and Modi appeared to have gotten along extremely well, Reuters reported. Modi was effusive in his praise of Trump, mentioning his "vast and successful experience in the business world" and "great leadership." He added, "I deeply appreciate your strong commitment to the enhancement of our bilateral relations. I am sure that under your leadership a mutually beneficial strategic partnership will gain new strength, new positively, and will reach new heights."
Modi and Trump signed a deal to sell a Boeing C-17 military transport plane to India for $366 million, Reuters noted.
At the end of a joint address in the Rose Garden, Modi embraced Trump in a hug. Trump even announced Modi had invited his daughter, Ivanka Trump, as lead delegation to a global summit in India — a sure sign the Indian prime minister had identified a spot the president particularly likes being massaged.
The warm reception was notable given both Modi's origins as a member of a neo-fascist militia and well-evidenced allegations he oversaw the massacre of Muslims in Gujarat in 2002, and the cold shoulder Trump has received from many of the world's other most prominent leaders.
Most European leaders, including German Chancellor Angela Merkel and French President Emmanuel Macron, have engaged with Trump in meetings that were chilly or outright confrontational. British Prime Minister Theresa May invited Trump to tour the U.K., but after Trump insulted London's Muslim Mayor Sadiq Khan in the wake of a terror attack, the status of that visit has been put on hold.
Other world leaders like Mexican President Enrique Peña Nieto have relations with Trump's administration that are hostile. Aside from strongmen like the Saudi officials who greeted Trump with a lavish show of attention during a recent visit or Filipino President Rodrigo Duterte, an accused mass-murderer, the president's few international allies have included other right-wing leaders like Israeli Prime Minister Benjamin Netanyahu.
In other words, the Modi visit is just another example of how Trump seems determined to alienate some of the U.S. closest traditional allies — and move the nation closer to authoritarian leaders on the world stage.