'The Bachelorette' 2017: One-on-one date elimination, handball and drama in episode 5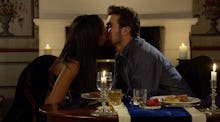 The Bachelorette is back after that episode four cliffhanger with Lee and Kenny. The previous installment of the ABC reality series was cut short before the group date ended, but Monday night's installment picks up with Kenny pulling Lee outside to confront him about what he's been telling Rachel.
Adam's ready for bloodshed, however, that never comes. Instead, Kenny keeps his cool and explains to Lee why his actions are upsetting him. But while all eyes are on them, Bryan is smooth talking his way into Rachel's heart. Rachel ignores the drama and gifts Bryan with the group date rose.
So, that's that, right? Not exactly. Kenny and Lee continue to take jabs at each other when Rachel leaves.
"I'm here to mess with everybody and it's working," Lee says.
Sorry, Jack
Rachel still has to go on a one-on-one date before the rose ceremony. Jack is the lucky contestant to land the day out with Rachel, but there is a lot of pressure riding on their date. As Rachel tells the cameras, they're a "perfect match on paper." They're both attorneys, around the same age and live in the same area — but do they have a connection?
Unfortunately, the answer is no.
After an awkward date eating oysters and learning how to dance, Rachel ultimately decides that she's missing the romance and passion with Jack. This revelation comes as a surprise to Jack, who thought their relationship was progressing.
The rose ceremony
Jack's early departure helps Rachel see who she's really moving forward with. After canceling the cocktail party, Rachel bids farewell to Iggy and the Tickle Monster. The other guys are relieved — especially Adam, who was upset that Rachel only got a "snack" when he hasn't had a chance to give her the "whole kitchen." Weird.
Moving on ... The 12 remaining men pack their bags for Oslo, Norway.
Bryan is a dream
Bryan lands the one-on-one date in Norway and it doesn't go unnoticed by the others. Dean thinks Bryan is overly confident and says that he wouldn't be surprised if he didn't come back from his date. Meanwhile, Eric is focused on race. He's taken notice that out of the five one-on-one dates Rachel has had, only one of them has been with a black man. He complains to Anthony, but Anthony doesn't agree with him.
Rachel and Bryan are in their own little world exploring the city of Oslo. But Rachel has a surprise up her sleeves for Bryan. She takes him to the top of an Olympic ski jump where they rappel the 187 feet down.
The two eventually settle down later that night to talk and learn more about each other. It's important for Rachel to get to know him more, especially since she thinks that he's too good to be true. Fortunately for her, Bryan wins her over. By the end of their date she 100% believes that Bryan is falling in love with her — and she's just as smitten as he is.
Things get handsy
Adam, Dean, Anthony, Peter, Matt, Will, Alex, Eric and Josiah join Rachel for a game of handball. The guys don what looks like wrestling uniforms, and for some reason Dean decides to wear a jockstrap over his. That aside, the guys give it their all in order to impress Rachel. Honestly, we wouldn't be surprised if Will moves to Oslo to become a professional handball player once The Bachelorette is over.
But not every contestant is focused on the game. Peter uses the opportunity to get handsy with Rachel instead of the ball.
Overall it's a good date for Rachel. Will gets vulnerable and opens up, something that helps move their relationship forward. Things also continue to get steamy with Peter. The two ditch the other men for some alone time in a hot tub. But things appear to be cooling off with Josiah. Although he tells Rachel that she's going to be his, Rachel doesn't think that he's genuine. She thinks he's more in love with the idea of her.
In the end Will gets the group date rose, which causes Peter to start doubting his connection with Rachel.
To be continued ...
Episode five of The Bachelorette ends in the middle of Kenny and Lee's highly anticipated two-on-one date with Rachel. The two men have been bickering for weeks and it all finally comes to a head while out in the wilderness.
Rachel, who is clearly freezing, pulls Kenny aside to hear his version of events. He admits to yelling at Lee, which Rachel appreciates. She can see that he's fighting for their relationship and trusts him. Lee, however, has a different story. He tells Rachel that Kenny tried to pull him out of a van and that his "dark side" comes out when he's drinking.
Not sure of what to do, Rachel pulls Kenny aside one last time. The episode ends with Kenny cackling as he returns to face Lee.
The Bachelorette will continue on Tuesday at 8 p.m. Eastern.
Mic has ongoing Bachelorette coverage. Check out our main Bachelorette hub here.