Can't download iOS 11 public beta? Having trouble installing it? Here's a quick fix.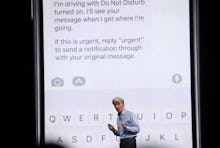 Praise be: The iOS 11 public beta release is here. Apple's new mobile operating system is finally available to the rest of us — well, those of us willing to tolerate potentially buggy and battery-draining pre-release software. But you're the type of iPhone geek who's fueled by a robust tech FOMO, lusty and anxious for the next big thing, right? Say no more. Here's how to download iOS 11 — and troubleshoot it, too, if you're having installation issues.
How to download iOS 11 public beta
Apple actually makes downloading iOS 11 really easy, but there are a few steps you should do first. One, see if your device is compatible — you need an iPhone 5s or newer. Two, make sure your phone is backed up. Good? Good.
Now, on your mobile device — not desktop — go to this link. This is the Apple Beta Software Program. Tap "get started," then "enroll your device."
Now, on your device, go to beta.apple.com/profile and download it.
Then you'll want to go to Settings, General and Software Update, where you'll find the long-awaited download link.
Can't download iOS 11 public beta? Here's what to do.
If you don't see the download link in Software Update, there's probably one reason why: You were already a beta tester, and you've been refreshing and refreshing Software Update, waiting for the iOS 11 link to come up. Spoiler: It probably won't. You have to re-download the profile.
After a few hours of intermittent refreshing, I got fed up and deleted my Beta Software Program profile. This is also easy: Go to Settings, then General, then Profiles and Device Management. Tap "iOS Beta Software Profile" and then "Remove Profile." Then I re-downloaded the profile using those steps above — and it worked.
I can't speak for everyone, but when I did everything above, iOS 11 was finally mine. All this for the ability to edit Live Photos.