Senate Republicans' Obamacare repeal bill may be flatlining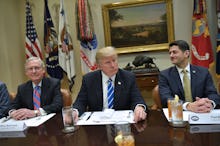 Hours after a Congressional Budget Office report concluded the Senate version of the Republican plan to repeal and replace the Affordable Care Act would kick an astonishing 22 million people off of insurance over the next decade, defections among the party caucus in the Senate may doom the bill from ever reaching a vote.
Vox policy reporter Dylann Scott tweeted on Monday evening he had heard that senators such as Rand Paul, Dean Heller and Susan Collins were all opposed to a motion to start debate on the bill as proposed, which takes the legislation below the straight majority vote necessary for it to proceed to a vote.
According to Politico, Sen. Ron Johnson has also "signaled" opposition to the procedural vote, while other senators including Shelley Moore Capito and Marco Rubio were "undecided."
The bill was written largely in secret by GOP leadership, though it is ultimately much the same as the arch-conservative House's version. The Republican defections threaten to tank the party's ability to move the legislation forward, though leadership is trying its hardest to convince the senators not to bail on the bill.
"I would hope … our members would at least let us get on it," Sen. John Thune, the third-ranking Republican in the Senate, told Politico. "Everybody wants to exert whatever leverage that they can, where they can get the most leverage, but I would expect we'd be able to get on the bill."
As Politico noted, the bill does free up some additional $200 in savings. Republicans could theoretically carve up that money to win over colleagues wary of moving forward with the legislation — but stumbling over procedural votes isn't a good sign for the repeal act's chances in a final vote, which is was already handicapped by a decision to use a process called budget reconciliation which could allow it to pass with a straight majority.
However, the current troubles are far from a final indication Republicans will not ultimately pass some version of the bill. Concerns over the bill's harsh provisions aside, President Donald Trump's administration and virtually all of the party's congressional leadership have aggressively backed passing a repeal act, pointing to the GOP's years-long platform promising they would do just that. The prior House version passed, despite months of grueling negotiations that at first only culminated in a temporary failure to pass the bill.