White House says it knows of potential Syrian chemical attack, warns Assad of "heavy price"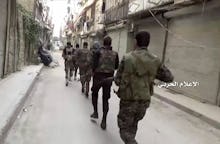 White House press secretary Sean Spicer issued a terse and somewhat unusual statement on Monday night, warning Syrian strongman Bashar al-Assad that the U.S. had detected preparations for a chemical attack on civilians and would not tolerate another.
"The United States has identified potential preparations for another chemical weapons attack by the Assad regime that would likely result in the mass murder of civilians, including innocent children," the statement read. "The activities are similar to preparations the regime made before its April 4, 2017 chemical weapons attack."
"As we have previously stated, the United States is in Syria to eliminate the Islamic State of Iraq and Syria," it concluded. "If, however, Mr. Assad conducts another mass murder attack using chemical weapons, he and his military will pay a heavy price."
The White House did not provide additional context or evidence backing the remarks.
President Donald Trump ordered a missile attack on Syria's al-Shayrat airfield in April, saying the U.S. military had determined the Syrian military facility gassed dozens to death in the northern town of Khan Sheikhoun. While the attack seemed to fly in the face of Trump's previous opposition to intervention in Syria in the wake of a 2013 attack which killed 1,300, as well as his repeated insistence getting involved could trigger World War III, Trump promised further retaliation if Assad's alleged use of chemical weapons did not cease.
Tensions with Russia over U.S. involvement in the long-running, brutal Syrian civil war have spiked in recent weeks, including a threat Russian troops would shoot down U.S. air forces flying west of the Euphrates river. Russia is backing Assad's government, while the White House has seemingly not decided on a coherent strategy other than giving the U.S. military more independence to make decisions.
Secretary of state Rex Tillerson issued a similarly short warning the United States "has spoken enough" about North Korea's nuclear program that month, though the threat had not resulted in military action as of June.