Can Ice Cube's The Big 3 league help fuel a new kind of basketball video game?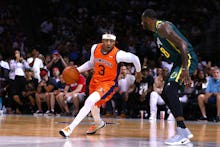 The sports video game landscape already has NBA 2K, NBA Playgrounds and the revived NBA Live franchises, but there is still room for at least one more virtual hoops title. How many fans would be interested in playing a three-on-three video game? Perhaps more than you might think.
The Big 3 basketball league spearheaded by actor/rapper/businessman Ice Cube just kicked off its inaugural season at the Barclays Center in Brooklyn on Sunday, and the reviews were a little mixed. Some were entertained, while others thought the league — featuring three-on-three action and mostly retired NBA players — looked "old and rusty."
No matter the opinion you choose to align with, there's no questioning the interest in the league. There were a number of media outlets in Brooklyn to cover the league, including Sports Illustrated, CBS Sports, Uproxx, CNN and many more.
Much of the interest in the league has come from the inclusion of former NBA stars like Allen Iverson. He still resonates with hoops fans and the opportunity to see him back on the floor was easily the biggest draw of the league's debut event. Iverson only scored two points in his first game, so there is some validation for the "old and rusty" take.
That said, there's also an increased focus on three-on-three hoops. The International Olympic Committee recently announced that three-on-three basketball will make its debut at the 2020 Summer Games in Tokyo. The NBA sponsors a series of three-on-three events, including the Dew NBA 3X tour.
The awareness for this kind of hoops is high, and with the star power The Big 3 provides, it might be enough to validate a video game featuring former NBA players along with an Olympics angle.
Ideally, this title would release closer to the 2020 games when the focus on three-on-three figures to be its highest. That might also be a time when The Big 3 has gained some traction and carved a niche on the never-ending hoops calendar.
A mixture between wide-open arcade action and simulation-style mechanics would be the smartest approach and base, but there are a variety of directions to go. We're simply dreaming and speculating at this point. However, if something comes to fruition, remember where you heard it first. 
More sports gaming news and updates
Love sports games? Check out more content from Mic, including tips for leveling up your MLB The Show RTTS player, the new story mode in Madden 18, a wish for the WWE 2K18 release and a detailed sports video game release calendar.