Detroit judge halts deportation of 1,400 Iraqi nationals living in US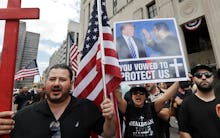 A Detroit federal judge has temporarily stalled the deportation of over a thousand Iraqi nationals who were recently rounded up or detained across the country, CNN reported.
U.S. District Judge Mark Goldsmith issued a stay of removal Monday night, sparing 1,444 Iraqi nationals living in the United States from deportation for another two weeks. Should they be deported, the judge wrote, the Iraqis face "grave consequences" and "irreparable harm," according to the Washington Post. He said "such harm far outweighs any interest the government may have in proceeding with the removals immediately."
Goldsmith stopped the deportation of 114 Iraqi nationals, most of them Chaldean Christians, on Thursday. These Iraqi Christians face persecution by the Islamic State group, also known as ISIS, should they return home. The American Civil Liberties Union and other immigration advocates sought the original Detroit-area stay and requested that the judge expand the scope of the order over the weekend.
Some of those detained were expected to be removed by plane to Baghdad as early as Tuesday. Those affected by the stay now have two weeks to challenge their deportation orders.
In a statement, Michael Steinberg, legal director of the ACLU of Michigan said ICE, which detained many of the Iraqis, was putting these individuals in "grave danger."
"For many families across the United States, this ruling is like a stay in a death penalty case," he said.
The Chaldean community celebrated the win with caution, as many still need attorneys to challenge their deportations.
"It's been a rush against time," Wisam Naoum, a Detroit attorney and Chaldean community leader, told the Post.
Many of the removal orders were decades old and targeted people who had entered the country legally but overstayed their visas or had criminal convictions.
"In any event these folks served their time. They rehabilitated. They paid their debt to society," Naoum said.
ICE detained many of the Detroit-area Chaldean Christian Iraqis on a June 11 sweep, including one person who was taken on his way to his daughter's baptism.
The Detroit Chaldean community voted heavily in favor of Trump, because its members believed he would be stringent in the fight against ISIS, according to the Post.
"They felt they were safe," Naoum said. "Especially since he promised protections for Christians."