EU slaps Google with a record 2.42 billion euro fine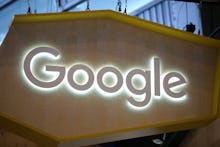 The European Union has fined Google a record 2.42 billion euro, or $2.72 billion, over its online shopping service, which they say violates antitrust rules, the Associated Press reported.
According to the European Commission, Google "has abused its market dominance as a search engine" by giving its shopping service dominance over other services in its search results. They alleged that Google prioritizes its own services while "demoting rival services" that might be a better deal for the consumer.
"It stifled competition on the merits in comparison shopping markets," according to the commission.
However, in Google's eyes, it is packaging search results in a way that is consumer-friendly.
"When you shop online, you want to find the products you're looking for quickly and easily," Kent Walker, senior vice president at Google, said in a statement obtained by the Associated Press. "And advertisers want to promote those same products. That's why Google shows shopping ads, connecting our users with thousands of advertisers, large and small, in ways that are useful for both."
The fine is the biggest ever levied for this kind of behavior. In 2009, the EU fined technology company Intel just over a billion euro. Though they paid the fine right away, they challenged the harsh fine. They lost the challenge in 2014.
Google has 90 days to stop its practice or it will face fines of up to 5% of the daily worldwide turnover of Alphabet, Google's parent company, according to the Associated Press.
The Associated Press reported that Alphabet currently has about $92 billion, or 82 billion euro, in cash at its disposal.