Kremlin slams White House's warning of potential chemical attack in Syria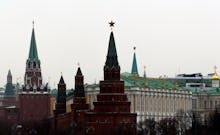 On Tuesday, the Russian government dismissed a White House statement alleging it had knowledge that Syria was planning a chemical attack on its own citizens, the Associated Press reported. The original statement from press secretary Sean Spicer said Syrian President Bashar al-Assad would "pay a heavy price" if the attack went through.
Dmitry Peskov, spokesman for Russian President Vladimir Putin, said "such threats to Syria's legitimate leaders are unacceptable," according to the Associated Press.
The White House claimed the attack that Syria is preparing for is similar in nature to the deadly gas attack in Khan Sheikhoun in April, which killed at least 58. The White House responded by launching a missile strike on Syria using tomahawk missiles.
Putin said the U.S. was "in violation of the norms of international law" for its April retaliation.
According to the Associated Press, Peskov also criticized the U.S. for using the phrase "another chemical weapons attack," saying that an independent investigation into the Khan Sheikhoun attack was never conducted.
The Kremlin's dismissal logs another entry in a long-simmering tension between the U.S. and Russia over American involvement in the Syrian civil war. Earlier in June, Russia threatened to shoot down U.S. air forces flying west of the Euphrates river.