SNES Classic Edition Preorder: Stock alerts and best pages to watch for Amazon, Walmart and more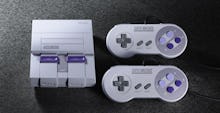 Placing your SNES Classic Edition preorder will be as difficult as buying the rereleased NES before it. Nintendo has announced that the new version of its Super Nintendo console will come to stores on Sept. 29 and the company won't produce any beyond 2017. Meaning if you don't put in your SNES Classic preorder early, you may never be able to.
With something as limited edition as the SNES Classic, preorder placement is crucial. Considering how difficult buying the NES Classic became, here's what you can do to avoid the headache.
SNES Classic preorder stock alerts: Bookmark these sites. Go to them every day. Make them your homepage.
With the announcement of the Super Nintendo's classic console, retailers have started readying their storefront for the limited run gadget. The SNES Classic Amazon page is now up, ready for you to smash that "Buy" button when it comes time. Best Buy and Walmart have also put up their SNES Classic pages. Each of the sites claim their SNES inventory is "coming soon" or "out of stock." That's not because they've sold out of supply but because it has yet to be made available. Meaning there's still time for you to put in your preorder in the near future.
SNES Classic preorder stock alerts: How to get notifications to your phone, alerts in your email and more.
The current pages for Amazon, Best Buy and Walmart all allow for you to receive email notifications when SNES Classic stock becomes available, but that's playing on level one. There are other ways to stay ahead of the buying competition.
If you've tried to purchase a Nintendo Switch, you've already know these pro tips. Sites like NowInStock and Zoolert will keep you posted on when the mini SNES units are available to buy. These sites also allow for email alerts.
Taking things a step further, services like VisualPing will notify you regarding changes made to retail sites or stock alert sites right from within your browser. When you're alerted to changes made to a specific portion of the page, preferably the areas that would change to say "buy now" or "stock available," that's your cue to get your wallet out.
The final piece of the SNES Classic alert puzzle comes via IFTTT. "If This Then That" allows you to receive a notification when you receive an email from a specific address or even when you receive an email that gets sorted into a specific label. Alerts can come in the form of SMS texts or smartphone push notifications. With the right Gmail filters, IFTTT settings and retailer alerts, one of them is bound to ping your phone at the right moment. Let's just hope Nintendo provides enough stock for all the pro-level buyers out there.
Check out more Nintendo gaming news and coverage
Looking for more Nintendo Switch news? Check out how blind gamers are using the Nintendo Switch and why you can't get your Mii to look quite like you. Nintendo's left Joy-Con issue turns out to be a hardware problem — here's how to solve it. Find out how to buy a console amidst the recent restock. Learn why the Switch cartridges taste so bad. Check out our comparison photos sizing up the Switch to the Wii U GamePad (part one and part two), or find out how to make use of ethernet without the dock and the best way to get alerts when new stock arrives.