There's a new effort to recall Judge Aaron Perksy, who sentenced Brock Turner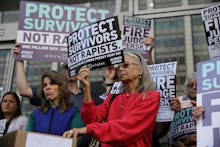 Judge Aaron Persky could be on the chopping block again.
On Monday, California residents renewed efforts to recall the Santa Clara County Superior Court Judge, who sentenced sexual assault convict Brock Turner to just six months of jail time in June 2016.
According to the Washington Post, 50 of these residents have filed a petition asking for Persky's removal. The judge has seven days to respond to the filing, after which time petitioners must collect some 59,000 signatures from registered voters in the county. If they do, the option to recall Persky will be included on California's primary election ballot in 2018.
Dauber helped lead attempts to oust Persky last year along with UltraViolet, the women's organization that delivered one million signatures calling for his removal to the California Commission on Judicial Performance at the time.
Following their protests, Persky was removed from another sexual assault case due to concerns over whether he would rule on it fairly.
"After... the recent turn of events, we lack confidence that Judge Persky can fairly participate in this upcoming hearing in which a male nurse sexually assaulted an anesthetized female patient," the district attorney wrote in a statement. "This is a rare and carefully considered step for our office."
Persky also handed down a questionable sentence in 2015, when he sentenced a 48-year-old man with over 200 child pornography photos on his computer to just four days in jail. And in a 2011 lawsuit, Persky allowed attorneys defending men accused of gang rape to present revealing photos of the alleged 17-year-old victim in court.
Still, Persky managed to dodge misconduct charges in December, after the commission concluded there was no "clear and convincing evidence of bias, abuse of authority or other basis to conclude that Judge Persky engaged in judicial misconduct warranting discipline."
Michelle Dauber, a Stanford University law professor, told the Washington Post she believes this time Persky could be out for good.
"Today we take the first step," Dauber said on Monday. "Judge Persky has a long history of leniency in cases involving sexual assault. Here in Silicon Valley, women have had enough."