This 'Iron Man 2' Easter egg involving Spider-Man will blow your mind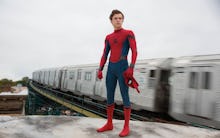 Spider-Man has been part of the Marvel Cinematic Universe this whole time.
Spider-Man: Homecoming star Tom Holland has confirmed to HuffPost that Spidey's alter ego, Peter Parker, does indeed make a cameo in Iron Man 2. Over the past several years, fans have speculated that a scene in the 2010 film featuring a child in an Iron Man costume was, in fact, the boy who would be Spider-Man.
In the scene, young Peter attempts to stop one of the drones fighting Iron Man, who notices the boy, swoops in and kills the drone. After saving Peter, Iron Man tells him, "Nice work, kid!" and goes on his way.
There are six years between Iron Man 2, which came out in 2010, and Spider-Man's appearance in Captain America: Civil War, which came out in 2016. In the latter movie, Peter is a teenager, so the time between the films checks out. Also, Stark Expo, the event where Peter makes his cameo in Iron Man 2, takes place in the New York borough of Queens, where Peter lives.
Holland says that the theory is completely true. According to HuffPost, he had a conversation with Kevin Feige, the president of Marvel Studios, who confirmed the fan theory.
I can confirm that as of today. I literally had a conversation with Kevin Feige only 20 minutes ago. Maybe I've just done a big, old spoiler, but it's out there now. It's cool. I like the idea that Peter has been in the universe since the beginning.
What is most interesting about the cameo is that Sony Pictures has owned the rights to Spider-Man since 1999. It wasn't until 2015, a few years after Iron Man 2, when Sony and Marvel Studios finally came to a deal to share the rights to the character.
Feige sneakily introduced the character to the Marvel Cinematic Universe without ever showing his face.
Mic has ongoing movie coverage. Please follow our main movie hub here.