Serena Williams graces the cover of 'Vanity Fair' nude, pregnant and glowing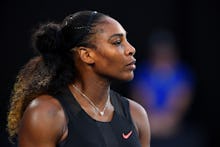 Not even 24 hours after defending herself against former tennis player John McEnroe's criticisms of her talent, Serena Williams is on the August cover of Vanity Fair looking extremely pregnant, extremely nude and extremely unbothered.
"V.F. cover star Serena Williams — world's best athlete (plus, mom and wife-to-be) — still has her eyes on the prize," Vanity Fair tweeted out Tuesday morning, in what could be a veiled dig at McEnroe's statements.
The only thing she appears to be wearing for this Annie Leibovitz cover shoot is a belly chain and an earring.
Williams shared another photo from the spread on Instagram.
Of course, this isn't the first time Vanity Fair has celebrated a naked pregnant woman on its cover. In 1991, Demi Moore posted nude and pregnant for a cover of V.F. as well, so this cover could be a nod to that.
Of course, as with anything Williams does, her fans on Twitter immediately freaked out about this legendary cover and spread.
Compared to her friend Beyoncé, Williams has had a rather public pregnancy, debuting her baby bump at the 2017 Met Gala back in May.
In the story accompanying this cover, Williams also got candid, talking about her first thoughts when she realized she was pregnant. "Oh my God, this can't be — I've got to play a tournament," Williams recalled. "How am I going to play the Australian Open? I had planned on winning Wimbledon this year."
And that, ladies and gentleman, is the greatest athlete in the world for you.