'The Carmichael Show' mass shooting episode to air this week after pushback from cast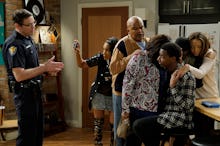 The Carmichael Show's "Shoot-Up-Able" episode, which takes on the issue of mass shootings, will air Wednesday at 9 p.m. Eastern. This news comes two weeks after NBC decided not to broadcast the episode following the shooting at a Congressional Baseball Game practice.
Five people were injured in the attack on the morning of Wednesday, June 14. That night, the Carmichael Show's mass shooting episode was scheduled to air. But when it was primetime, the network instead chose to replace it with another chapter from the show, titled "Lesbian Wedding."
On the day of the shooting, actor Jerrod Carmichael was a guest on Chelsea Handler's Netflix talk show. At the time of interview, the sitcom's star was not sure if the episode would run, but he strongly expressed that he did not want to see it pushed back.
We handle the episode with as much love and integrity as we possibly could, but to just pull that — it's criminal. It seems to do a disservice to the viewer. It does a disservice to you. It does a disservice to all of us. So right now we're having what I hope is a conversation about it. We're having what I hope will be dialogue and not just the decision. We'll see if it airs tonight. We don't know, but that's why I'm being a little weird.
On Wednesday's "Shoot-Up-Able," Jerrod is at a mall during a mass shooting. Although he does not see himself as a victim, his family consoles him. The cast is also expected to dive in to the politics of gun control.
The Carmichael Show's episode is centering a timely issue on the sitcom. The non-profit Gun Violence Archive defines mass shootings as when four or more people are shot or killed in the same incident. There has been 171 mass shootings, according to the Gun Violence Archive's data. In a June analysis of this data, CNN found that there is an average of 6.7 mass shootings every week in 2017.
Mic has ongoing arts coverage. Please follow our main arts hub here.