These celebrities have already taken Lin-Manuel Miranda's #Ham4All challenge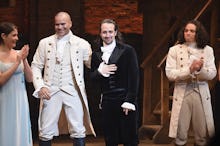 On Tuesday, Hamilton creator Lin-Manuel Miranda announced a new partnership with Prizeo that could earn a lucky fan a trip to Los Angeles to see the musical, hang out with the Tony winner and even attend a sure-to-be awesome afterparty. For donating just $10 to the Immigrants: We Get The Job Done Coalition, fans are entered into the contest.
In addition to donating, Miranda has asked Hamilton enthusiasts to post a short clip of themselves singing one of their favorite songs from the show and challenging friends do the same with the hashtag #Ham4All. Not surprisingly, the challenge has already taken off, and numerous celebrities have joined in to raise awareness for the cause.
Here are some of the best celebrity #Ham4All challenge participants yet.
1. Ben Stiller
Ben Stiller and his daughter Ella took the challenge to the next level by acting out a scene from the hit Broadway musical. The duo performed "Non-Stop," taking it as seriously as if they were onstage in front of a massive crowd.
2. Taran Killam
Former Saturday Night Live cast member Taran Killam went all out for the #Ham4All challenge and even took some time to edit his video with text. Killam chose to sing "Wait for It," though to say he got some lyrics wrong would be a massive understatement.
3. Shonda Rhimes
Television mega-producer Shonda Rhimes, who has created hit shows like Grey's Anatomy and Scandal, was quick to take the #Ham4All challenge, giving her best rendition of "Washington on Your Side." Impressively, she did not slip up until the end.
4. Sara Ramirez
Shonda Rhimes is not the only one associated with Grey's Anatomy to take the #Ham4All challenge. Former cast member and Tony Award-winner Sara Ramirez also donated, later singing a portion of "Wait for It."
5. Gina Rodriguez
Gina Rodriguez, the Golden Globe-winning star of the CW's Jane the Virgin, accepted Lin-Manuel Miranda's challenge and beautifully sang a brief segment from "Dear Theodosia."
6. Rainn Wilson
The Office's Rainn Wilson quite impressively rapped a brief portion of Hamilton's "My Shot." The actor then called out former co-star Ed Helms to donate and perform his best Hamilton.
7. Katie Lowes
In response to Shonda Rhimes' challenge, Scandal star Katie Lowes performed the opening to "Dear Theodosia."
8. Stephanie Beatriz
Brooklyn Nine-Nine star Stephanie Beatriz has accepted the challenge, praising the cause as she herself is an immigrant. Beatriz decided to perform a bit of "Guns and Ships." And let's just say she was awesome.
Those who want to enter for a chance to win a trip to Los Angeles should head to Prizeo.com/Hamilton to donate.
Entries support the Immigrants: We Get the Job Done Coalition, which is made up of 12 organizations that, according to the Prizeo contest page, "work throughout the United States to provide services to immigrants, refugees, and asylees, including legal representation, advocacy, and awareness campaigns."
Mic has ongoing coverage of Hamilton. Please follow our main Hamilton hub here.