Uber is investigating a woman's claim a driver put her in danger while defending his family's slaves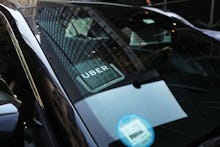 Marissa Johnson didn't anticipate that halfway through her 40-minute trip to the airport, her Uber driver would begin telling her how lucky his great-grandparents' slaves were. She also didn't know that he would, allegedly, drop her off in a dangerous part of town in the opposite direction of her destination.
On Sunday afternoon, Johnson hailed an Uber from Hilton Hotels Bonnet Creek in Orlando, Florida, where she was visiting to accept BlogHer's award for 2017 Voice of the Year for Impact. Johnson and co-founder Leslie Mac's company, Safety Pin Box, provides subscription boxes for white people who want to be allies in the fight for black liberation.
In an interview with Mic, Johnson explained that she couldn't see the driver's photo or any information — the app only showed the car, but the hotel bellhop told her that he picks up passengers there all the time.
Johnson said the driver — James — started talking about police, black folks and the 2016 shooting of Philando Castile. "He starts off saying, 'I'm probably the least racist person you've ever met because my best friend is a black man,'" Johnson said. When she tried to steer the conversation in a way that she believed would be less inflammatory — "because I don't know this person, and anything can happen when you're talking about race" — the chat got even more alarming.
The driver began defending his great-grandparents' slaves, Johnson said
"About halfway through the conversation he segued really hard into telling me about the fact that his great-grandparents owned slaves and owned a plantation," Johnson said. She sat there and listened as he told her his great-grandparents taught their slaves to read and write, emancipated them once they could prove their literacy and that his great-grandfather was "so kind" that he gave the slaves his last name. The driver boasted about "why so many black people" share his last name, Johnson said.
She didn't know how to respond. She recalled feeling overwhelmed by the fact "that a slave owner's descendant is casually talking to me about this right now where I'm stuck in his car in a city I don't know."
Johnson told James that giving slaves their master's last name isn't an act of kindness. "You own those people. It's not a humanitarian thing that now they have to have their kidnapper's name," she said.
James argued that his family didn't "kidnap" their slaves — they "bought them fair and square in Charleston."
"That doesn't really matter," Johnson said.
Johnson said the driver went off course, dropping her off at a Burger King in a dangerous part of town
Around this point, Johnson called her business partner Leslie Mac to let her know that she was in an Uber with a driver telling her about his slave-owning grandparents and that she didn't know what to do. Mac relayed some of Johnson's story on Twitter.
James was getting more and more agitated as she was on the phone with Mac, and Johnson finally asked him if they were any closer to the airport because she wanted to get out of his vehicle. He told her that he was not taking her to the airport, he was dropping her off at a nearby Burger King.
"I was really scared to have this man who is a proud descendant of slave owners driving me to places against my will in a city that I don't know," she told Mic in a phone interview.
Johnson said the driver pulled up and parked at the Burger King, telling her, "Get the fuck out of my car and don't you ever get into my fucking car." When she told him that his behavior was completely inappropriate and unprofessional, he said, "It's dumb that I have to deal with you; you're a fat bitch anyway."
Once Johnson was in the Burger King, she checked her Uber receipt and saw that the driver had gotten off the freeway, turned around and drove her to a different part of town, away from her destination.
Johnson realized that if she didn't hail another car, she was going to miss her flight. Mac got Johnson a black driver to pick her up at the Burger King. Johnson, flustered, recounted what happened to her to the new driver.
"He said, 'Yeah, I was wondering why you were in this part of town because it's very intentional that he brought you all the way over here,'" Johnson told Mic. The driver told her that the pickup location "is out of the way to the airport, and this particular Burger King is a well-known crack spot in the most dangerous part of town," according to Johnson.
Uber's response
Johnson filed a complaint with Uber detailing what happened to her through the company's website while she was at the airport in Orlando. She was sent a form response noting that she wouldn't be matched with that driver again.
By the time Johnson arrived in New York, she'd received a call from an Uber representative asking for her side of the story. The Uber representative noted that the company was going to do its own investigation, but that due to its privacy and company policies, it couldn't let Johnson or anyone else know the results of the investigation. Following the phone call, Uber emailed Johnson that they had waived her fare for that ride due to the inconvenience.
An Uber spokesperson told Mic in a phone call that the company has removed the driver from the app while they investigate the complaint, which they noted was pretty standard protocol for a serious allegation like this one.
The spokesperson also said that in a situation where a passenger or driver feels unsafe, they should first call the police and then report it through the app.
"As our standards make clear, discrimination has no place in our community," Uber said in a statement. "Drivers and riders are expected to treat each other with respect. We take such complaints seriously, investigate each case, and handle appropriately."
"There's no recourse if you have a racist driver," Johnson told Mic, referring to the lack of follow-up in regard to her investigation. "There's no recourse for women in particular if your driver just decides to take you off somewhere else. And there's no way to ensure that these folks stop being drivers or receive any discipline at all. The best that they do is make sure you aren't paired with them. But what if you're with a friend in that city and your friend orders that Uber and that driver is now free to go pick up other folks? It's a mess, it really is a mess."
What's the solution?
When platforms are connecting strangers, they have a responsibility to ensure that their users are safe. But companies like Uber, Lyft and Airbnb face little liability in the event that their users are harassed, assaulted or discriminated against as a result of these matchups. There should be basic safety protocols in place if a driver veers off the intended path. These companies should have a way for victimized passengers to learn what happened to their driver following a complaint. And they should be working toward measures that boost public safety, such as fingerprint background checks.