Black teens handcuffed for selling water on National Mall are now getting job offers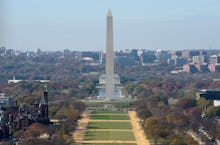 Less than a week after a group of black teenagers was photographed getting handcuffed by police for selling water without a permit on the National Mall, two of the boys are getting a chance to capitalize on their business acumen.
According to WJLA, Nolan White and Devin Gatewood — both 17 years old — have been recruited by Raymond Bell, founder and administrator of the Washington-based H.O.P.E. Project, who will train them to work for him as iPhone screen replacement technicians over the summer.
Bell's H.O.P.E. Project — acronymous for Helping Other People Excel — is an information technology training program for young adults, according to its website. Bell told WJLA that the boys would be working toward I.T. certifications during their tenure with him.
"I feel like it was a bad situation turned into a good situation," Gatewood told WJLA. "I feel like I'm progressing and found a new way to hustle."
White and Gatewood first came to Bell's attention via a Twitter post that went viral last week. In a series of photographs Thursday, user Tim Krepp documented the two boys and one of their friends being cuffed by Park Police for selling water bottles without a permit on the National Mall.
The post has since amassed more than 15,000 retweets, and prompted Bell to reach out to the boys' parents with job opportunities for their sons (he is also trying to get in touch with the third boy).
"I'm an entrepreneur myself and I love seeing young people having an interest in working for themselves," Bell told WJLA.
All three boys were released without charges after Thursday's incident, according to the Associated Press.