Video shows officer threatening black man for jaywalking without an ID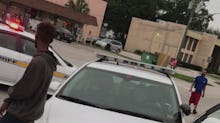 A Facebook video shows a young black man being threatened by a Jacksonville, Florida, sheriff's officer for jaywalking without an ID.
On June 20, Devonte Shipman, 21, and his friend were crossing the street when they were stopped by Sheriff's Officer J.S. Bolden. In the video, the officer demands they come over to his police car, which Shipman at first refuses. Bolden then accuses the two of "resisting without violence" and says, "If you don't, I'm going to put you in jail."
The video, which has nearly 500,000 views as of Tuesday afternoon, shows the officer asking for identification as they walk to the car. When Shipman informs Bolden that he doesn't have any, the officer cites it as another infraction and claims "I can detain you for seven hours until I figure out who you are."
Shipman says he tried to remain calm and respectful because he was fearful of the scene turning violent.
"If you look at the video, if you pay attention to his body language, he's grabbing his hands like he wanted to do something to me," Shipman told the Florida Times-Union. "I didn't escalate the situation. I was trying to figure out what I did wrong."
Ultimately, Shipman walked away with a jaywalking fine of $62.50 and another fine of $136 for not having a license. However, the law Bolden cites for the latter fine, Florida Statute 322.15, does not apply in this situation.
Specifically, the statute says, "every licensee shall have his or her driver's license, which must be fully legible with no portion of such license faded, altered, mutilated, or defaced, in his or her immediate possession at all times when operating a motor vehicle."
Because Shipman was walking rather than operating a vehicle, he can't be fined for not carrying proper identification. According to the Florida Times-Union, the sheriff's office is reviewing the video, but Bolden is not currently under any investigation.
"Three cop cars, all because we crossed the motherfucking street though," Shipman says in the video. "We crossed the street, that's all we did."