Snapchat Maps raise privacy concerns. Here's how to turn off your location.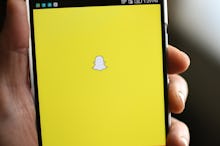 Snapchat introduced a new feature last week: Snap Map. Within the app lies access to a map that allows you to explore what's going on around the world and also see where your friends are.
In theory, it's a cool new feature, but it can also be a safety concern.
The issue? Snap Map updates your location every time you have Snapchat open, meaning users who habitually open the app will be disclosing their location on a regular basis, presenting a potential privacy concern for parents.
"It should cause some concern for those of you that have children using Snapchat," Massachusetts State Police social media specialist Dustin Fitch wrote on Facebook. "I'd recommend talking to your children about the concerns with sharing their location with strangers."
Tech expert Charles Tendell told ABC News that giving strangers and acquaintances access to your location can be a dangerous game.
"It is very easy to accidentally share everything you got with more people than you need to and that's the scariest portion," Tendell said.
It's important to note that you're not automatically opted into this feature. Here's how to check your settings.
When you first open up the Snap Map, go to the "camera" screen and pinch the screen to zoom out with two fingers. There, the app lets you choose who sees your location with three settings: "Ghost Mode," "your friends" or "select friends." "Ghost Mode" will keep your location 100% to yourself, while "select friends" allows you to curate a list of people who can see your location.
Should you have second thoughts about what setting you chose, you can always go back and change it. Simply pull up Snap Map, select your avatar, and tap the white box on the bottom that says "me." From there, you'll be able to make adjustments.