'Zelda: Breath of the Wild' DLC Release Date: Nintendo teases new content ahead of Pack 1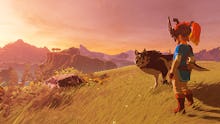 In case you missed it in the cavalcade of E3 announcements earlier in June, the first downloadable content for The Legend of Zelda: Breath of the Wild comes out on June 30.
"The Master Trials" contains 45 unique challenge rooms across three tiers of difficulty. You won't be able to bring any weapons or gear you've accumulated while exploring Hyrule, so you better be skilled at playing Breath of the Wild. The DLC also enables several Amiibo-exclusive outfits in the game, which Nintendo is talking about in a series of blog posts in the days leading up to the DLC's launch.
Zelda: Breath of the Wild DLC Release Date: Nintendo explains Midna's helmet, Phantom Armor in blog posts
One of the fun bonuses in "The Master Trials" is the ability to wear classic Zelda outfits like Midna's helmet from Twilight Princess using specific Amiibo. In this Nintendo blog post, you can get a look at some early concept art for Midna and learn about how the character came to be.
Interesting tidbits include the fact that Midna initially came from a secret, non-Zelda project that was scrapped. In early builds of Twilight Princess before Midna was finalized, they had Tetra from Wind Waker riding around on Wolf Link's back. If you click over to the blog post, you can see early designs where Midna looks more like a goblin than her final design.
Midna's helmet had a convoluted backstory in Twilight Princess, but in Breath of the Wild, it just adds to your Guardian resistance. "The Master Trials" launches this Friday for $20. That price also gets you access to "The Champions' Ballad" when it launches this holiday season.
More Zelda: Breath of the Wild tips, tricks and guides
Find out all there is to know about Zelda: Breath of the Wild, including what to expect from the Wii U version, how to preserve your items, how to beat bosses like the Stone Talus and Lynel, the best recipes for Link and how to take on the game's shrines. You'll also want to find out where all the great fairies in the game and how to use amiibo with your version of Zelda.