Why was 'BoJack Horseman' pulled from China's iQiyi streaming service?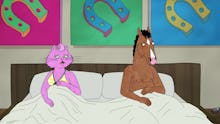 Over the last several years, China has become a major market for movies and television series, but one whose censors are notoriously difficult to appease. For movies, getting past China's censors can make or break profitability — just look at Warcraft. While the stakes may not be quite as high in television, series that are played in the Middle Kingdom can benefit studios enormously from rich licensing agreements. As such, Netflix recently made a splash by securing a licensing deal with iQiyi to stream its content in China.
Netflix is now learning, though, that having a foot in the door is not enough to actually walk through it. Bloomberg reported that only days after beginning to air on iQiyi, the streaming service has pulled Netflix's animated series BoJack Horseman. As for why the series was removed, in a statement, iQiyi told Bloomberg that "adjustments need to be made to the content." While the necessary adjustments were not specified, the move is not all that shocking.
BoJack Horseman centers around an alcoholic, anthropomorphic horse that once was the star of a popular '90s sitcom. It is not surprising that the series' irreverent humor and subject matter would fail to pass censors that, according to Deadline, have also banned shows like The Big Bang Theory, The Good Wife, NCIS and The Practice, all of which are, for the most part, far less raunchy than Horseman.
China deciding to block content from the United States is not a new development, and certainly not reserved for television. In 2016, the Middle Kingdom refused to release Deadpool, the Ryan Reynolds-starring comic book adaptation that took most of the rest of the world by storm. The hilarious action-comedy ended up earning over $783 million worldwide, but with a Chinese release the film could have made a run at being the first R-rated movie ever to cross the $1 billion mark globally.
Movies that do earn a release in China can reap massive rewards. Films like Pirates of the Caribbean: Dead Men Tell No Tales and Transformers: The Last Knight recently opened to soft numbers in the United States, but are more than making up for it in the Middle Kingdom. Even some films that perform well in the U.S. like The Fate of the Furious look to China for their largest haul. While The Fate of the Furious has earned a healthy $225 million domestically, that number pales in comparison to the over $392 million raked in from the world's second-largest film market.
As for other Netflix content, Bloomberg reported that, as of Tuesday, iQiyi is still streaming Making a Murderer and Chef's Table. Other series that are expected to be released include Mindhunter and the second season of Stranger Things. Whether they pass the censors, though, is yet to be seen.
Mic has ongoing coverage of Netflix. Please follow our main Netflix hub here.