The EveryMan Project tries to bring men into the body-positive conversation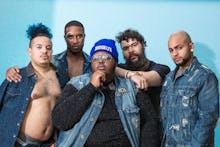 What's your first memory of your body as a child?
That's the question famed fashion photographer Tarik Carroll asks his male models that always makes them freeze. That's probably because it's a question many men haven't been asked before, and Carroll understands why.
"Every man, to a certain degree, has body image issues," Carroll said in an interview. "But we've been programmed not to talk about it. We've been taught to man the fuck up and not really speak about those feelings and explore, like, 'Why do I feel this way about my body? Why do I look at myself like this?'"
While women proudly dominate the online conversation around accepting and loving your body, men, for the most part, aren't participating nearly as much in this body-positive conversation.
Carroll wanted to change that, so in May, he officially launched the EveryMan Project, a ongoing photo series he's already planning to turn into a book and a documentary.
Each of the photos in the series so far show men of different colors, sizes and identities posing much like the models you'd see in the pages of Vogue. That's something Carroll did purposefully, thanks to inspiration from '90s ad campaigns that featured buff male supermodels.
But rather than use buff male supermodels, Carroll is celebrating the men who rarely see themselves in any ad campaign at all.
"It all went back to growing up as a kid and not seeing myself represented, as a black kid in Brooklyn and the tallest kid and the bigger kid," Carroll said. "You don't see yourself represented. What I decided to do was explore '90s fashion ads from Versace to Calvin Klein, and pieced together each shoot like, 'What if I recreated these with real size guys?'"
By shooting these photographs this way, Carroll sees it as him showing brands and companies that guys who break the mold can still be fashionable, cool and alluring.
"It's going to take a change in the mindset of how we look at ourselves as men, for bigger guys and guys without ripped abs to be out there," Carroll said. "It's all on one person willing to take the risk of doing things that are not conventional, shaking the table. I'm one photographer, and maybe one photographer will do something we're doing. Maybe a stylist will be like, 'Hey, let's do something different.'"
Ultimately, what Carroll hopes to create is a visual representation of body positivity as it stands now and a safe space for men to discuss their bodies.
"My main goal is to create a safe space," Carroll said. "And to really show what body positivity is. Body positivity is not fat versus skinny. It's being comfortable in your own skin. We're also battling toxic masculinity. It's like, yeah, you can be a man, but you don't have to dress according to social gender norms. My goal is to show the entire spectrum, going from skin color to body size to masculinity, and create a safe space where everyone can see themselves represented."
Currently, EveryMan is holding casting calls and taking applications from potential models for the project. The only real requirement, Carroll said, is that they're open.
"We're looking for guys who are open to share their stories about their journey and relationship with their bodies," Carroll said. "Open to share, open to discuss. That's the core thing. In them sharing their stories, they'll be able to help someone else."