Trump urges people to get tested for HIV as GOP gears up to cut funding to Medicaid, family planning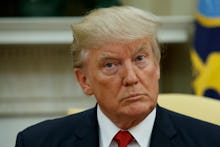 On Tuesday, President Donald Trump encouraged Americans to get tested for HIV, saying in a statement that "greater awareness through testing is crucial in defeating HIV and AIDS."
"On National HIV Testing Day, I encourage Americans to learn their HIV status," Trump said in a statement. "Together, we can protect ourselves and promote the health and safety of all."
However, Trump's comment comes as Senate Republicans gear up to gut funding for Medicaid and Planned Parenthood with their health care reform bill. Those two entities have historically helped people afford HIV testing and treatment.
More than 40% of people living with HIV rely on Medicaid for their care, according to an analysis by the Kaiser Family Foundation. Medicaid also covers routine HIV testing in 33 states plus the District of Columbia, as well as "medically necessary" HIV testing in 12 other states, according to the KFF.
But if the Senate passes their health care reform bill, Medicaid would see a $772-billion cut over the next 10 years, according to a report from the nonpartisan Congressional Budget Office. That would decrease the number of people on Medicaid by 16%, the CBO estimated.
A group of doctors and medical professionals who treat HIV patients say the Senate's health care plan would be devastating for those in the country living with HIV, writing in a letter to senators that the bill puts "the health and lives of our patients and millions of other Americans at risk."
"Without health care coverage, patients are more likely to present late with diseases that would have been manageable if identified and treated earlier," the group wrote in the letter. "For individuals with HIV, late diagnosis can result in a substantial decrease in life expectancy, often leads to dramatically higher healthcare costs with complex hospitalizations and loss of productivity and increases their risk of transmitting the virus to others."
Former members of Trump's HIV/AIDS advisory board who resigned in protest last week also said the Senate's proposed health care bill would negatively impact people living with HIV/AIDS in the United States.
"It will kill people — that's not hyperbole," Scott Schoettes, Lambda Legal's HIV Project Director, told BuzzFeed of the bill's impact. "There will be some people who will die from this."
The Senate health care bill would also defund Planned Parenthood, which provides HIV testing, sometimes free of charge, to men and women.
In addition to the Senate health care bill's impacts on HIV/AIDS, Trump's proposed budget would also slash funding for HIV/AIDS testing and treatment both at home and abroad.
That includes a $186-million funding cut to the Centers for Disease Control and Prevention that helps fund HIV and AIDS prevention, according to Stat News.
One of his proposed budget cuts would also cut a $3.2-million initiative that provides care to HIV-positive transgender women of color.