Nicki Minaj was given the key to Queens. Here's 9 of her verses that prove she deserves it.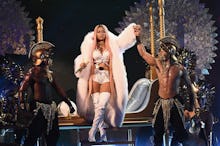 Back in 2013, when Kendrick Lamar tried set the hip-hop world ablaze by proclaiming himself "the king of New York" in his incendiary "Control" verse, Queens-bred Nicki Minaj was having none of it.
"I'm the queen of New York," Minaj told Power 105.1's Breakfast Club. "I'm the king of New York."
Tuesday night, Queens borough president Melinda Katz made Minaj's claim to the throne that much more official, presenting "Onika Tanya Maraj PKA Nicki Minaj," with the key to the city. It celebrates the Trini-born, Queens-bred rapper's "outstanding career achievements in music," as the plaque accompanying the key reads.
With Katz's gift, she joins rappers Fabolous and Foxy Brown, who both hold keys to Brooklyn.
Minaj moved to New York City from Trinidad when she was five years old, joining her parents who had gone ahead to start setting up a new life for the family.
"I thought it was gonna be like a castle," Minaj said of her move to New York in a 2010 MTV News documentary. "Like white picket fence, like a fairy tale. I got off the plane and it was cold. I remember the smell. I could always remember the smell when I got out of the airport of the snow, and I had never seen snow."
She's been repping the city ever since, praising its gritty, unforgiving, culture-clashing glory in her lyrics. Here are nine of her best verses that prove she's worthy to join the city's rap aristocracy.
1. "New York Minute (Remix)" by French Montana featuring Nicki Minaj, Jadakiss
From French Montana's 2010 Mac & Cheese 2:
"And there gotta be a heaven/ Cause Sean Bell'll never get to make it to his weddin' (In a New York minute)/ But a star will arise/ And she'll originate from the streets of Southside"
2 and 3. "Click Clack" by Nicki Minaj
From Nicki Minaj's 2007 Playtime is Over:
:I rep Queens like a crown, when I'm in the - town, ask Yung Joc, "It's Goin' Down"
4. "Bees in the Trap" by Nicki Minaj
From Nicki Minaj's 2012 Pink Friday: Roman Reloaded:
"It's New Jersey got hella bricks/ It's Queens, Brooklyn and yeah they're wildin'/ The Bronx Harlem and Staten Island"
5. "Playtime Is Over" by Nicki Minaj
From Nicki Minaj's 2007 Playtime is Over:
"I body bitches I don't need a burna/ Queens, oh yes I rep queens/ Little white T, plus sum tight jeans/ I make it heard for these chicks to breathe"
6. "I Am Your Leader" by Nicki Minaj
From Nicki Minaj's 2012 Pink Friday: Roman Reloaded:
"I bought a couple 9's, plus the k's with me/ I breeze through Queens to check some bad bitches/ I stunt so hard, assess the damages"
7. "Make Love" by Gucci Mane featuring Nicki Minaj
From Gucci Mane's 2017 "Make Love":
"I rep Queens where they listen to a bunch of Nas/ I'm a yes and these bitches is a bunch of nahs"
8. "Moment 4 Life" by Nicki Minaj featuring Drake
From Nicki Minaj's 2010 Pink Friday:
"Young money raised me, grew up out in Baisley/ South side Jamaica, Queens and it's crazy/ Cause I'm still hood, Hollywood couldn't change me/ Shout out to my haters/ Sorry that you couldn't phase me"
9. "Swish Swish" by Katy Perry featuring Nicki Minaj
From Katy Perry's 2017 Witness:
"Get my pimp cup, this is pimp shit, baby I only rock with Queens, so I'm makin' hits with Katy"
Mic has ongoing music coverage. Follow our main music hub here.