'Fire Emblem Heroes' Summer Event Rumor: New banner event, Female Robin swimsuit found in datamine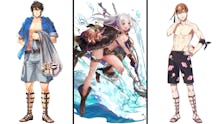 A redditor's datamining of Fire Emblem Heroes purportedly found indications that a new, summer-themed banner event, "Ylissean Summer," is coming soon. Like the Easter event, Ylissean Summer looks to introduce a number of new versions of existing characters — but this time, they're swapping their bunny outfits for summer beachwear.
Fire Emblem Heroes: Ylissean Summer banner event allegedly datamined
According to the Reddit post from HAPPYSADPERSON, the Ylissean Summer event will introduce new versions of Tiki (adult), Robin (female), Frederick and Gaius.
In addition to the scantily clad versions of the aforementioned heroes, Ylissean Summer will introduce a new set of Paralogue missions and some new, summery maps.
It's not clear exactly when this event might begin, but we'll fill you on any new info as it comes along..
More gaming news and updates
Check out the latest from Mic, like this essay about the sinister, subtle evils lurking in rural America that Far Cry 5 shouldn't ignore. Also, be sure to read our review of Tekken 7, an article about D.Va's influence on one Overwatch player's ideas about femininity and an analysis of gaming's racist habit of darkening villains' skin tones.