Nintendo Switch PS4 Controller: Pro Controller too expensive? Use your Dualshock instead.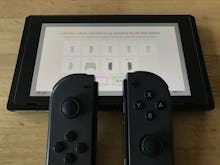 It's no secret that we're unimpressed with Nintendo's controller situation. Games like Mario Kart 8 and Splatoon remind us that the Switch is a portable Wii U, yet the Wii U's Pro Controller or Wii Remotes won't work with the new console. The upcoming SNES Classic won't work with any of Nintendo's other controllers, even though most have enough buttons. (At least it comes with two this time.)
If you're tired of Nintendo controller's poor console support and have a Playstation 4, it looks like you'll soon be able to use your Dualshock gamepad with the Switch.
This dongle lets your Nintendo Switch and PS4 controller speak the same language
Those hoping to play Switch games with their PS4 controller can thank Brook Accessory for the hook up. The company's PS3/PS4 to Wii U Super Converter, was originally intended for Nintendo's previous console. Through a firmware update, the converter will now support Nintendo Switch. Not only will you be able to play Switch games with a comfortable controller, you can do so without spending an extra $70-$80 on a new Pro Controller or Joy-Con pack.
Playing Nintendo Switch with a PS4 controller: The downsides
If you already have a PS4 controller lying around, the converter probably seems like a no-brainer. There are downsides, however. While the converter offers niceties like rumble support, it does require that the Dualshock be tethered to the console's dock — meaning no wireless play. The dongle's site makes no mention of players getting access to the motion control features that you'd find on the Pro Controller and Joy-Con.
If you're fine with the trade-offs and have a PS4 controller lying around, using the Dualshock with your Switch could be a viable stand-in for buying an expensive new one. But don't expect to be able to locate your PS4 controller when it's lost.
Check out more Nintendo Switch news and coverage
Looking for more Nintendo Switch news? Check out how blind gamers are using the Nintendo Switch and why you can't get your Mii to look quite like you. Nintendo's left Joy-Con issue turns out to be a hardware problem — here's how to solve it. Find out how to buy a console amidst the recent restock. Learn why the Switch cartridges taste so bad. Check out our comparison photos sizing up the Switch to the Wii U GamePad (part one and part two), or find out how to make use of ethernet without the dock and the best way to get alerts when new stock arrives.