What is a raid battle in 'Pokémon Go'? Here's how to join raids after the big gym update.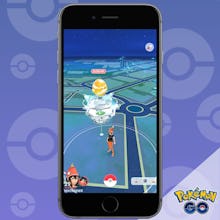 Niantic has slowly made raids, the latest addition to Pokémon Go, available to trainers in-game over the past few days. Raids allow players to get useful items like TMs and Golden Razz Berries and give them a shot at capturing powerful Pokémon.
If you're not sure how to actually join a raid in Pokémon Go, we've got the scoop.
How to join raids in Pokémon Go: Raid level and entry requirements explained
Niantic has steadily reduced the level requirement for raids as they've gone live. According to Pokémon Go's Twitter account, any player level 20 or higher is now eligible to participate in a raid.
The first thing you'll need is a raid pass. These can be obtained for free from any gym's photo disc, or you can purchase multiple "Premium" raid passes from the store for 100 PokéCoins apiece.
Once you get a pass, you'll need to find a raid. According to the Niantic Support page, you can track nearby raids in-game. You'll want to look for a massive egg sitting on top of a gym with a timer on it. When that timer hits zero, you'll get the opportunity to fight against the raid boss. You can find even more raids in your area using a third-party map service.
In order to participate in the raid, you'll have to select the gym where it's taking place, redeem your raid pass, pick a team of six Pokémon and give it your all. Don't worry about wasting your pass — you've got an hour to defeat the raid boss, and you can hop out as needed to heal and revive your Pokémon.
If you and the other trainers on your team manage to complete the raid, you'll be rewarded with items like Golden Razz Berries, TMs and Premier Balls, which you can use to catch a scaled-down version of the raid boss. Make sure not to waste them, however — once you run out of Premier Balls, the Pokémon runs away.
That's all there is to it. So, if you're at least level 20, get out there and start fighting those raid battles.
More Pokémon Go news, updates, tips and tricks
Raids are here! See why they may be the key to legendary Pokémon. Find out how to determine how long it will take you to reach level 40, and see what we think of the Gen 2 Pokémon added to the game. Here are the kinds of Pokémon you get from 10-kilometer eggs, and here's where you can check out what you missed during the Water Festival and Solstice events. Find out more about the upcoming Chicago event and why you'll probably be able to catch Unown while you're there — if you're not busy searching for rare evolutionary items, that is.