SNES Classic US vs Europe vs Japan: What are the differences between the mini console releases?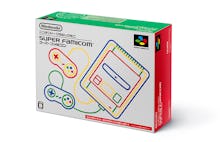 It's common in gaming for different regions to get different products — like consoles or versions of games, especially if they need to be localized for a specific market. It's no surprise then that the SNES Classic will be released in Europe differently than in the States.
Check out the differences for the SNES Classic in Europe vs North America
The most obvious difference is in the look. The American SNES uses a grey and purple color palette, matching the original product.
The European SNES has a totally different palette — using colors for each key and a light grey background.
Aside from the look — which, if we're being honest, is the most important part — the main difference is in a few of the games. According to this Kotaku post, Fire Emblem: Mystery of the Emblem and Legend of the Mystical Ninja will both be exclusively available on the Europe SNES, while EarthBound will only available on the SNES in North America.
Correction: June 27, 2017
More Nintendo Switch news and coverage
Looking for more Nintendo Switch news? Check out how blind gamers are using the Nintendo Switch. Nintendo's left Joy-Con issue turns out to be a hardware problem — here's how to solve it. Find out how to buy a console amidst the recent restock. Learn why the Switch cartridges taste so bad. Check out our comparison photos sizing up the Switch to the Wii U GamePad (part one and part two), or find out how to make use of ethernet without the dock and the best way to get alerts when new stock arrives.