CNN retraction and undercover video feeds into pro-Trump media's "fake news" claims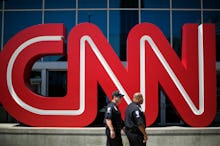 Pro-Trump media have pounced on a days-long embarrassment for the cable channel CNN that involved the retraction of a story and the resignation of three people involved in the story's publication. The mess for CNN only got worse Tuesday after the release of secretly recorded videos of a CNN producer criticizing the network's coverage of Trump-Russia stories.
The scandal started on late Friday after CNN published an anonymously sourced story claiming that the Senate Intelligence Committee was investigating ties between a Russian investment firm and a member of Donald Trump's presidential transition team.
Various claims made in the article were quickly called into question, first by the Russian state-owned channel Sputnik, and then the pro-Trump site Breitbart. CNN eventually retracted the story on late Friday night, saying that the article "did not meet CNN's editorial standards," and it issued an apology to Anthony Scaramucci, the transition team member implicated in the story.
The following day, CNN informed employees that stories about Russia must be first reviewed by CNNMoney executive editor Rich Barbieri and CNN vice president Jason Farkas, according to BuzzFeed. Two days later, three employees involved in the story's publication resigned: Lex Haris, the executive editor of CNN's investigative arm CNN Investigates, Eric Lichtblau, the assistant managing editor of CNN Investigates and Thomas Frank, who authored the story.
"In the aftermath of the retraction of a story published on CNN.com, CNN has accepted the resignations of the employees involved in the story's publication," a CNN spokesperson said in a statement to BuzzFeed.
CNN moved quickly to try to mitigate the backlash from the scandal, and Scaramucci tweeted that he accepted the network's apology. But the damage was already done. Across pro-Trump media, pundits and reporters jumped on the incident as an example of the network's lack of credibility and repeated claims oft-repeated by President Donald Trump that the network was "fake news."
On Tuesday morning, the self-proclaimed conservative "guerrilla journalist" James O'Keefe released an undercover video purporting to show CNN producer John Bonifield describing Trump-Russia stories on the network as ratings-driven.
"It could be bullshit," Bonifield can be heard saying. "It's mostly bullshit right now. I mean, we don't have any big, giant proof right now."
CNN defended Bonifield in a statement Tuesday afternoon.
"CNN stands by our medical producer John Bonifield," the statement said. "Diversity of personal opinion is what makes CNN strong, we welcome it and embrace it."
Even before O'Keefe's videos were posted, anti-CNN stories had been splashed across conservative media. On the conservative channel Fox News, reliably pro-Trump pundits Tucker Carlson and Sean Hannity jumped on the story. According to Carlson's segment on the scandal, CNN was "no longer just a news organization" but "a campaign with a political mission," he said. And on Tuesday morning, stories about the incident were leading the front pages of Breitbart, Drudge Report and conservative pundit Laura Ingraham's site LifeZette.
Trump, a known consumer of conservative media and a frequent and vocal critic of CNN, tweeted several times about the story Tuesday morning.
O'Keefe's secret videos only served to reinvigorate the anti-CNN storylines already across conservative media, giving life to more stories about CNN being "fake news." Pro-Trump pundits widely shared the O'Keefe videos, as well as Trump's son Donald Trump Jr. and conservative politicians. The story was gleefully splashed across various conservative media sites like the Daily Caller and Townhall.
The stories aren't likely to go away any time soon, either. O'Keefe said he has a stash of videos he will release, and the drip-drip of videos will serve to further amplify pro-Trump media's antipathy for the cable channel.
June 27, 2017, 1:56 p.m.: This story has been updated.