Rebel Wilson is designing clothes for plus-size women because the fashion industry won't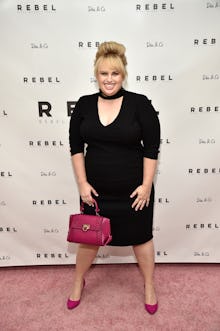 Fashion designers often neglect to create clothing for plus-size women. It's a tired trope, with far too many women being overlooked and too few options that are both fashion-forward and plus size. Enter: Rebel Wilson. The accomplished actress and plus-size fashion icon is trying her hand, once again, at designing clothes dedicated to plus-size women. She is attempting to fill the void in the plus-size fashion world with her much-needed collection for women sizes 14 and up.
Wilson has designed plus-size collections in the past, including a super-edgy collection for Torrid, but this is the first independent clothing line for the actress. Dubbed Rebel Wilson x Angels, this collection is smart, sassy and unwilling to play by fashion's rules for plus-size women. Oh, and it doesn't shy away from eye-catching prints or bold statement pieces.
Mic sat down with the Australian designer at the launch party for her collection at Dia&Co's New York HQ, a company dedicated to plus-size clothing and personal styling for women. Here, Wilson discussed the launch of her newest clothing line and the impact she hopes to have on the fashion industry.
Mic: Why did you want to launch your own fashion collection?
Wilson: I've learned so much about fashion being an actress and having to walk the red carpet and having people really be interested in what I wore, which they never were before. So, this line is me giving back and showing things that I've had made for myself, or things you can't normally buy, and me giving those to the plus-size women out there in America.
Mic: You've designed your own lines before, and have previously spoken about how the fashion industry excludes women of a certain size. Why do you continue designing for the plus-size community? What impact do you hope to have?
Wilson: I was lucky, I got to the capsule collections for Torrid and that gave me a real taste of what [the process of creating a line] was like. And now that I have my own line it's really cool. The reason why it's plus size: one, because I'm plus-size. I'm actually the average American size, which is now, according to the Fashion Institute's study, 16-18. That is the main size of America, and yet — there are some plus-size lines out there that are really great — but there's not that much choice, and so, I want a majority of American women to have more choices.
Mic: Over the years there have been all these so-called fashion "rules," especially for plus-size women, like no crop tops, no stripes, no colors. What would you say to these people who think they need to follow these rules?
Wilson: Actually, I love stripes, horizontal stripes. That used to be like a no-no, people would be like, "Don't, don't wear that." I like to show a bit of skin where possible, it gives a good visual. I don't usually wear long sleeves or long dresses or pants, because if you show a bit of skin, it's a bit sexier. You can wear a cute crop top, but I would wear it with a high-waisted skirt. I wear that all the time. You should wear color all the time. I have so much colorful stuff in the line, because ... it's good to show your personality and use color.
Mic: You've said before that shopping wasn't fun because there were no clothes to buy. What do you hope the shopping experience is like now that your line will be out there?
Wilson: Well, the good thing about this brand is that it is available online, but it's also available in really cool department stores. So I just think the good thing about our range is that it's really expansive and every six weeks new product will come in that's on trend, so you can either buy online or go in-store and touch it and feel it and see what you like.
Mic: What would you say to a young woman who might feel alienated from the fashion industry and might think negatively about her body because she doesn't see it represented?
Wilson: I get that, because obviously if you watch certain things about fashion on TV or in movies, you can see that fashion at times is very exclusive rather than being inclusive. For me, I think women of all sizes should be confident in who they are and celebrate what they look like ... just be proud of it and flaunt it. I've become famous for playing a character called "Fat Amy," and I love playing "Fat Amy."
Mic: At the end of the day, how do you want someone to feel when they put on any of the pieces from your line?
Wilson: I think the main thing is that I've designed all the clothes to be comfortable. For example, our denims have got this Lycra Beauty technology in most of the jeans and they're so stretchy. You can do the splits, if you wanted to, in those jeans. So, for me, comfort is big, because you're wearing these clothes all day ... so comfortability is key for me. And then, also, that they make you feel confident. So, you put on a Rebel Wilson x Angels outfit and you just feel a bit of the confidence. And a lot of people say I have a lot of confidence so, hopefully, some of it rubs off on you when you wear these outfits.
This interview has been edited and condensed for clarity.
The collection, which ranges in prices from $49 to $298, will be available starting in July.
See clips of Mic's interview with Wilson on Strut by Mic's Instagram.