What time is the 'Pretty Little Liars' series finale on tonight? Here's everything you need to know.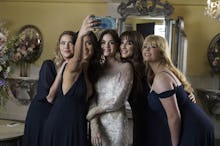 The wait is finally over to find out the true identity of A.D. on Pretty Little Liars. The show is ending its seven season-long mystery with a two-hour series finale airing Tuesday at 8 p.m. Eastern on Freeform.
On top of revealing the person underneath the black hoodie, the series finale is also expected to expose the answer to another juicy mystery: the identity of Emily and Alison's baby daddy. In episode 14, "Power Play," it was revealed that Alison was pregnant with Emily's stolen eggs. They know that Archer Dunhill was the one responsible for implanting the eggs, but a DNA test proved that he was not the father.
Besides the ongoing drama, there will also be a happier plot line for Ezria shippers. Aria and Ezra got engaged in episode six of season seven after years of a rocky relationship, but have yet to walk down the aisle. Preview photos of the series finale show Aria dressed in white and snapping photos with the other Liars on her wedding day.
Following the series finale, fans can tune into the "A-List Wrap Party" at 10 p.m. Eastern. The special will bring together the Pretty Little Liar's main cast, including Sasha Pieterse, Lucy Hale, Troian Bellisario, Shay Mitchell and Ashley Benson, along with executive producer I. Marlene King. The stars are expected to rehash memories from filming the show and discuss the secrets that carried the suspense of Pretty Little Liars throughout its run, according to TV Guide.
Watch the promo video for the series finale below:
Mic has ongoing Pretty Little Liars coverage. Please follow our Pretty Little Liars hub here.