Senate Republicans postpone health care vote amid growing opposition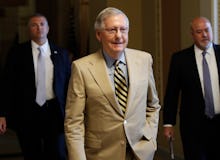 A vote on the Senate's proposed health care bill has been postponed until after the July 4 recess, thanks in part to a growing number of senators who announced they would not support the bill in its current form, multiple media outlets reported Tuesday.
Both Senate Majority Leader Mitch McConnell (R-Ky.) and Senate Majority Whip John Cornyn (R-Texas) had been adamant a vote on the bill would happen before the Senate recessed for Independence Day.
However, that's no longer the plan after at least four Republican senators announced they would not vote to begin debate on the legislation.
The news comes after the nonpartisan Congressional Budget Office announced the Senate's plan would lead to 22 million more people becoming uninsured over the next 10 years, with big Medicaid cuts affecting poor Americans well after that.
Still, Republicans are not saying the bill is dead.
At a news conference on Capitol Hill Thursday afternoon, McConnell said Republicans are still looking to garner enough votes to pass the plan — though he gave no details about potential changes nor a timeline for the vote.
"We are still working toward getting at least 50 people in a comfortable place," McConnell said.
June 27, 2017 3:03 p.m.: This article has been updated.