The 11 best summer movies to watch on Netflix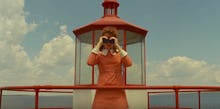 Ah, summer — the perfect time of year to head outside, jump in a pool, barbecue in the backyard or just soak up some sun. But for those who prefer to lounge in the cool, air-conditioned indoors, it's also a prime time to watch awesome movies.
Thankfully, Netflix has a treasure trove of films for just such an occasion. So put away the sunscreen and get out the remote — we've rounded up 11 of the best summer movies to watch on Netflix.
What's summer without a coming-of-age drama complete with drugs, sex and beach soccer? That, in a nutshell, is this Spanish-language romance by Harry Potter: Prisoner of Azkaban director Alfonso Cuarón, which stars Mozart in the Jungle's Gael García Bernal and Rogue One's Diego Luna.
Summer is the best time to enjoy a campy horror film, and few are more brilliantly campy than Wes Craven's Scream. It simultaneously makes fun of and embraces all of the traditional horror movie tropes while taking audiences on a terrifying journey to uncover the murderer lurking in the fictional California town of Woodsboro. Plus, it kicks off with that legendary Drew Barrymore scene.
For those who enjoy pirates and Johnny Depp, Pirates of the Caribbean: The Curse of the Black Pearl will do the trick. It's funny, there are gorgeous beaches in it and Geoffrey Rush does the best pirate "arrrr" ever.
Superbad's story is ideal for anyone who misses those long summer breaks during high school. It may be a raunchy comedy, but it's also a genuine tale about friendships changing in the face of adulthood.
Some people's summers are more off the beaten track — literally. The characters in Moonrise Kingdom, for example, reside on a rural island that only has dirt roads, and a scout group that does things oddly by the book. Another story about growing up, Moonrise Kingdom focuses on a relationship between a Boy Scout named Sam and a girl named Suzy who's struggling to figure herself out.
Directed by The Social Network auteur David Fincher, Zodiac is a fascinating look at the infamous Zodiac Killer who wreaked havoc on San Francisco and the surrounding areas in the 1960s and '70s. Aside from it being an enthralling story, it stars some major powerhouse actors like Mark Ruffalo, Jake Gyllenhaal and Robert Downey Jr.
Improv shows can make great summer fun, but they usually involve spending money and going to some scuzzy club. That's why it's great that there's a movie chock-full of improv on Netflix right now. A film about figuring out your 30s, Don't Think Twice is directed by comedian Mike Birbiglia, and it focuses on what happens to a group of improv friends when one of them makes it onto a show like Saturday Night Live.
The adorably forgetful fish Dory, voiced by the inimitable Ellen DeGeneres, is back, and getting into more adventures in Finding Dory. The plot is simple: While looking for her parents, Dory ends up finding herself. There are few feel-good movies with a lovelier premise than that.
The classic Blazing Saddles is peak Mel Brooks and it touches on a serious issue that's still prevalent today: racism. With an all-star cast featuring Gene Wilder, Cleavon Little, Harvey Korman and the great Madeline Kahn — who could ever forget the name Lili von Shtupp? — this film is required viewing for all comedy aficionados.
Ever wonder what inspired William Shakespeare to write Romeo and Juliet? Well, Shakespeare in Love provides probably the closest "answer" we're likely to get at this point. The Academy Award-winning film tells the story of the epic, albeit fictional, romance between the celebrated bard, played by The Handmaid's Tale's Joseph Fiennes, and the aristocratic Viola de Lesseps, portrayed by Gwyneth Paltrow.
Finally, To Kill a Mockingbird touches on many important issues and themes from Harper Lee's Pulitzer Prize-winning novel, including racism, justice and looking beyond preconceived notions. And yes, it also takes place during a sweltering Alabama summer. For anyone who's new to the movie, Gregory Peck's performance as Atticus Finch is a must-see.
Mic has ongoing movie coverage. Follow our main movie hub here.