Here's what New York's first official LGBTQ monument will look like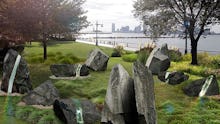 New York City will have the state's first official monument to LGBT people, and now we know what the planned monument will look like.
New York Gov. Andrew Cuomo announced Sunday that Brooklyn-based artist Anthony Goicolea has been chosen to create the monument. The governor's office also unveiled images of the design, which will be located west of Greenwich Village in the city's Hudson River Park.
The design features an arrangement of nine boulders, some of which will refract light to throw rainbow patterns on the surrounding grass.
In a statement, Cuomo said the design "complements the landscape and communicates a timeless message of inclusion, and this monument will serve as an enduring symbol of the role New Yorkers play in building a fairer, more just world."
The project was first announced in June 2016, the same month as the Pulse nightclub shooting in Orlando that left 49 people dead. The monument is intended to serve as a memorial to victims of "hate, intolerance and violence" and to honor LGBT communities, according to the statement from Cuomo's office.
In the statement, Goicolea said he was "honored" to be part of a project "to remember those who have been victims of hate, violence, and intolerance, while celebrating the beauty of the LGBT community." He continued, "This monument will serve as a communal space filled with light, color and hope where the visitors can sit, mourn, love and remember for years to come."