'Final Fantasy 15: A New Empire': Square Enix partners with 'Game of War - Fire Age' developer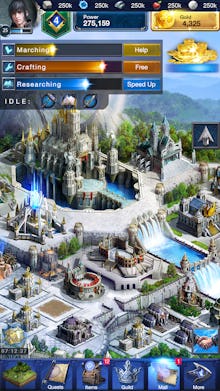 Square Enix embraced mobile a long time ago, especially with their ports. They've managed to compound their success with Brave Exvius. And on June 28, they announced a new partnership with Machine Zone, the company behind Game of War - Fire Age and those star-studded TV commercials with Kate Upton.
So, what does Square Enix want with a buzzword-addled mobile game studio? As it turns out — a mobile-friendly MMO.
Final Fantasy 15: A New Empire: Everything we know about the mobile MMO so far
The mobile MMO game will take place in Eos, much like the core Final Fantasy XV story. Much like Game of War - Fire Age, this is supposed to be a game that pits players against players in battle, as well as encouraging players to build up their cities. We don't know much about actual gameplay at this point, short of "it's like Game of War - Fire Age."
With Prompto's new episode available to play on PS4, this is an odd strategic move from Square Enix. Isn't it? It's true that Game of War - Fire Age practically prints money, with an estimated daily revenue around $513,000. But what does the Final Fantasy brand have to gain from going mobile, other than cash?
Plumping one's bottom line is good, of course, but it's not the only driving force. Gamers in Asia have embraced the mobile market in ways that North American gamers haven't. Square Enix's successes with Mobius and Brave Exvius seem to have cemented their mobile trajectory. A partnership with one of the most successful mobile game developers in business today means that Square Enix could create A New Empire for mega-fans without having to build the tech themselves.
Square Enix is about to tap into an enormous market that has proved that they are willing to put their money into mobile games. Final Fantasy's core players will still have their console games and mobile gamers will be able to experience the world of Final Fantasy XV without having to go out and buy a pricey console. They won't even really miss out on the story, what with anime episodes and a movie to watch.
MZ's Game of War — Fire Age is a money machine, and coupled with the lush Final Fantasy XV world to explore, Square is about to make serious dividends on their investment. It doesn't mean much in terms of gameplay and story for those of us who love Final Fantasy, at least not without further inspection, but more eyeballs on Noctis and his pals could mean more goodies for the PS4 game in the future.
Final Fantasy XV: A New Empire mobile MMO is available now on iOS and Android devices.
More gaming news and updates
Check out the latest from Mic, like this essay about the sinister, subtle evils lurking in rural America that Far Cry 5 shouldn't ignore. Also, be sure to read our review of Tekken 7, an article about D.Va's influence on one Overwatch player's ideas about femininity and an analysis of gaming's racist habit of darkening villains' skin tones.