Donald Trump hangs a fake "Time" cover bearing his photo at his golf courses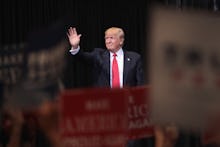 President Donald Trump has hung a fake Time cover dated March 1, 2009, and touting The Apprentice as a "television smash!" at at least four of his golf courses, the Washington Post reported on Tuesday.
The cover in question, which Time confirmed to the Washington Post was not legitimate, borrowed headlines from real issues of time like "Obama's Next Move: Can He Cut Health-Care Costs?" Funny enough for a president noted for his consistent refusals to acknowledge the near-universal scientific consensus on climate change, the cover also includes the cover line "Global Warming: A New Age of Extinction."
An astute Twitter user noted the bar code on the fake cover appeared to be ripped from karaoke DJ software.
As the Washington Post noted, Trump may be under the impression the fake cover is real.
"I think I was on the cover of Time magazine twice in my life and like six times in the last number of months," he said at a July 2016 press conference. "So you tell me which is more important, real estate or politics, OK? I have six for politics and I have two for real estate or whatever they put me on for."
(In fact, Trump was only on the cover of Time once before he became a politician, in 1989.)
Deputy national security adviser, K.T. McFarland allegedly handed the president a hoax 1977 Time cover earlier this year with the headline "How To Survive The Coming Ice Age," apparently as part of the administration's climate skepticism. The real cover, from 2007, had the headline "The Global Warming Survival Guide."