Kendrick Lamar's "Element." video presents a violent, provocative portrait of black life in America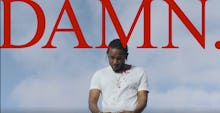 On his opening bars of "Element.", Kendrick Lamar told the world he's "willin' to die" for hip-hop.
"I done cried for this shit, might take a life for this shit," he raps. "Put the Bible down and go eye for an eye for this shit."
It's a bloody vision of the lengths Lamar has had to go to to rise above the violence of his upbringing and keep one step ahead of all those that would rather see his family "broke" and "sellin' dope" than living wealthy in America.
Tuesday, Lamar brought those visions to life, releasing a video for "Element." Directed by Jonas Lindstroem and "the little homies," the video offers a series of portraits depicting black life in America, some life-affirming, others painful. It opens on a shot of a hand rising out of a body of water, as if its owner was coming for air after a baptism. It's almost immediately contrasted with a massive fire consuming a house as a small group watches.
The video moves back and forth through this dichotomy, presenting alternating visions of life and death: Two black wrists are chained together with handcuffs, then the scene transitions immediately to a shot of a group of nuns standing shoulder to shoulder with their heads bowed. A quiet, intimate moment of a man and a woman in bed switches to a shot of a full street brawl, followed by a frame of four white convicts in numbered jumpsuits.
It functions as a dramatization of the album's central conceit, present in the opening lines and throughout the album: "You decide/ Are we gonna live or die?"
The video follows an award-winning weekend for Lamar at the BET Awards. During Sunday's ceremony he took home the award for best male hip-hop artist and performed his "Mask Off (Remix)" alongside Future. He used his speech to toast to the rapper Prodigy, who was found dead on June 20.
"Prodigy, he inspired my first mixtape at 16 years old, Y.H.N.I.C.," he said during his BET acceptance speech. "Off that album I was inspired to study my skills and work on my connection with my neighborhood, and how can I inspire them the same way he inspired the streets."
The "Element." video is the latest result of those powers, and as with most things Kendrick releases, hip-hop is better for it.
Mic has ongoing Kendrick Lamar coverage. Follow our main Kendrick hub here.