'Overwatch' Update Patch Notes: Minor bug fixes for Pharah and Orisa, but no Doomfist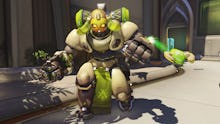 A new Overwatch patch just hit PC, but it's pretty small — there's just a couple minor bug fixes.
Unfortunately, there aren't any big Doomfist reveals in this patch yet, despite some earlier hype sparked by the fact that a previous patch on the public test realm was internally called "Doomfist/Summer Games." Whatever secrets are hiding within Overwatch will pop up whenever the Summer Games event starts, likely in July or August.
For now, this most recent patch is exclusive to PC. It will likely roll out to PS4 and Xbox One alongside a larger patch in the future. The full patch notes for PC are embedded below.
BUG FIXES
• Fixed a bug that prevented Pharah's "I am the rocket queen" voice line from playing correctly
• Fixed a bug that allowed Orisa's ultimate to charge while her Supercharger was deployed
More Overwatch news and updates
For more on Overwatch, check out the rest of what Mic has to offer. Here is an intro to the cute new "Wholesome Overwatch" subreddit, a look at some gorgeous Overwatch-themed PS4 and Xbox One controllers, a cool Easter Egg in the new Horizon Lunar Colony map and a criticism of Blizzard's failures in its design of Symmetra.