As White House election integrity panel begins work, civil rights watchdogs set up a hotline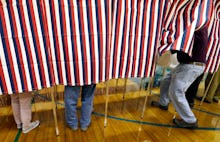 In May, after months of setting off sirens about supposed voter fraud, President Donald Trump launched a commission to investigate the "integrity" of the U.S. election system.
So the Lawyers' Committee for Civil Rights Under Law launched a hotline.
"This Election Integrity Commission was launched despite the fact that there is no evidence or data that supports the notion that voter fraud is rampant across our country," Kristen Clarke, president and executive director of the Lawyers' Committee, said in a phone call on Tuesday.
Clarke says her group views the commission as "a dog whistle for voter suppression." To that end, the Lawyers' Commission and Election Protection have opened a hotline for anyone who may feel intimidated by contact they have with the presidential panel.
A member of the presidential panel told Mic he's fine with an outlet for complaints, but also that it may be a little early to judge the work of a commission that hasn't yet gotten off the ground.
Trump has claimed without proof that the 2016 election, which he won in the Electoral College, but not the popular vote, was "rigged" by fraudsters. The allegations continue to bounce around the political echo chamber to this day.
Trump formally announced the creation of the integrity commission in May after floating the idea in an interview with then-Fox News host Bill O'Reilly that aired on Super Bowl Sunday.
Led by Vice President Mike Pence, the panel will spend the rest of 2017 examining vulnerabilities "that could lead to improper voter registrations, improper voting, fraudulent voter registrations and fraudulent voting," per the White House.
The White House press release on the commission says it's also supposed to look into voter suppression. Critics were quick to object, however, that the president's actual order includes no such reference. In a statement, the Brennan Center for Justice at NYU School of Law called the whole thing "a sham and a distraction."
Clarke says the mission of the integrity panel is disturbingly broad and vague.
"We have seen such efforts have a chilling effect on minority voter turnout and participation — and one of the starkest examples of this was Jeff Sessions' effort to investigate vote fraud during his time as a prosecutor in Alabama," Clarke said of the man who went on to become Trump's attorney general.
"They deployed investigators into majority black communities in the rural Black Belt of Mississippi," she recalled. "They rounded people up by bus to appear before grand juries. There were black voters who said they would never vote again after enduring the experience of being subject to Sessions' inquisition."
Clarke also said she's concerned that the panel includes Kansas Secretary of State Kris Kobach, who, she said, "has pushed anti-immigrant and xenophobic policies during his time as an official in Kansas."
Kobach is running for governor in the 2018 Kansas election and has been described by Politico as having "built a national reputation as a conservative hardliner on voting fraud." A spokesperson for his office didn't respond to a request for comment.
However, Kobach told the Washington Times that the committee's concerns are "nonsense."
"How would a commission studying statistics in any way affect the decision of a minority voter to vote in some future election?" Kobach said, per the Times' website. "They're a left-wing organization and they oppose photo ID and they're opposed to election security measures generally."
Also serving on the voter integrity commission is Maine Secretary of State Matthew Dunlap, a Democrat and former president of the National Association of Secretaries of State.
"I have spent a little bit of time with Kris Kobach over the years. [About] 95% of his politics, I don't agree with. But I've had dinner with the man. I've never seen him eat human flesh yet," Dunlap deadpanned in a phone interview.
"I don't agree with his commitment to make it difficult for people to vote," he continued. "I also don't think he really sees it that way. I think that he's somebody I can work with fairly honestly, and if they try to put me in a position of advocating something I don't believe in, you can bet I'll have the bullhorn in my hand. I'm sure he'll respect that."
Dunlap said a Wednesday call is scheduled to discuss the commission's setup.
The full scope of the panel's work isn't set yet, including whether it might include a look at potential Russian tampering with the 2016 vote — something at least two commissioners reportedly favor — or perhaps the cost of better election security.
"We want to have an open, honest discussion, and I think people are feeling very cornered by this commission, and this coming from the Trump administration," Dunlap said.
"We are presuming that the Trump administration is grounded in the 'tenets of evil,'" he joked adding that while he hasn't found a single policy on which he agrees with the man in the Oval Office, "I think the president of the United States, you've kind of got to give him the benefit of doubt. If [the commission] turns out to be intellectually dishonest, you know, I'm in a position to talk about that."