Reporter takes Sarah Huckabee Sanders to task during briefing over "inflammatory" media comments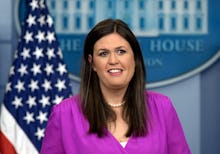 In a contentious press briefing Tuesday, White House deputy press secretary Sarah Huckabee Sanders went after cable channel CNN, prompting a Maryland reporter to accuse Sanders of being inflammatory.
The exchange began a few minutes after a Breitbart reporter posed the afternoon's first question, which referenced the resignation of three CNN reporters following the retraction of a CNN story involving Trump transition team member Anthony Scaramucci.
Sanders used the question to slam what she called "fake news" and to encourage viewers to watch a secretly filmed video released by self-described conservative "guerrilla journalist" James O'Keefe, in which a CNN producer can be heard criticizing the network's coverage. Should the video be accurate, Sanders said, "[it's] a disgrace to all of media, to all of journalism."
Sanders continued slamming CNN and other outlets for covering "the Russia-Trump hoax for the better part of a year now, with no evidence of anything."
"If we make the slightest mistake, the slightest word is off, it is just an absolute tirade from a lot of people in this room," Sanders said. "But news outlets get to go on day after day and cite unnamed sources, use stories without sources, you mentioned the Scaramucci story where they had to have reporters resign —"
At this point, Brian Karem, the executive editor for Maryland's Sentinel Newspapers and a White House correspondent for Playboy, interjected.
"Come on!" Karem said from the back of the White House briefing room. "You are inflaming everybody right here right now with those words."
Karem continued:
Any one of us are replaceable. And any one of us, if we don't get it right, the audience has the opportunity to turn the channel or not read us. You have been elected to serve for four years, at least. There's no option other than that. We are here to ask you questions, you are here to answer them. What you just did is inflammatory to people all over the country who look at it and say, 'See, once again, the president is right and everybody else out here is fake media.' Everybody in this room is only trying to do their job.
Sanders told Karem he was being "outrageous" for accusing her of being inflammatory before taking a question from another reporter.
The exchange — from Sanders broadsiding a major media outlet like CNN to Karem's outburst — astonished some reporters. Karem immediately faced criticism from pro-Trump media.
The Trump administration has been unfriendly and, often, openly hostile to the press, and the administration's treatment of reporters has regularly concerned advocates for a free press.