Take a spontaneous road trip for the 4th of July — it's extra affordable this year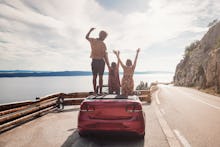 Forget fighting for a parking spot outside your neighborhood's fireworks celebration this July 4th weekend. Hit the open road instead.
The four-day bonus weekend (five, if you call in sick on Friday, which comes highly recommended from this soon-to-be-very-dramatically-coughing writer) gives you ample time to explore the perimeter of your state, cruise to the middle of the country or just speed (safely!) through the night to that city you've always wanted to visit but haven't found low enough airfare to.
An extra incentive to get behind the wheel
Gas prices are at an unprecedented low. Data tool GasBuddy predicts that a gallon of gas will cost an average of $2.21 per gallon nationwide on July Fourth, USA Today reported, which is lower than gas has been on the holiday since 2005. It's also the first time in 17 years that gas has been lower on Independence Day than New Year's Day. Domestic travel is already remarkably cheap this summer, so take advantage of the United States of America's birthday to see more of the country.
Be extra safe this holiday weekend
Before you time your trip to a tee, beware of traffic on this traditionally congested weekend. AAA estimates that a "record-breaking" 44.2 million Americans will travel 50 or more miles from home this holiday weekend, with 37.5 of those travelers driving. Even with carpooling, that's a lot of cars on the highway.
Use an app like Waze to help you dodge congested areas and consider driving early in the morning and at meal times to hopefully avoid some traffic. Downing a lap taco is a fun lunchtime activity, right?
Be cautious of other drivers on the road: July Fourth is, sadly, the deadliest day on the road, so navigate with precaution and appoint a designated driver if you plan to party and travel in the same day.
Don't know where to go? We have a few suggestions for cities to see on your long weekend...
And if you only want to drive one way and fly back home, know that July 7 is the cheapest weekend day for departures in July, so you really can plan a seriously budget-friendly road trip on a whim. We're already jealous of wherever you're driving off to.