Mic Original Video: Meet Jackson Faw, the lifelong Republican who went blue for Jon Ossoff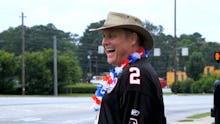 Donald Trump's victory divided America — and turned Jackson Faw into a Jon Ossoff supporting activist during the run-up to the special election in Georgia's 6th Congressional District.
In the final hours before that election, which Ossoff, a Democrat, narrowly lost, Mic trailed Faw as he campaigned for Ossoff and explained why he does not support the president. Faw wore a cowboy hat and Atlanta Falcons jersey the day before the election, along with a button that read, "Just because I'm a redneck doesn't mean that I voted for that son-of-a-bitch."
"Moving into a diverse community, community where there's a lot of low-income folks around. It does change your feeling," Faw said.
Watch below: