'Hot Mic' podcast: Health care vote, Charges in Laquan McDonald shooting, U.S. image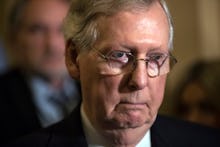 Listen and subscribe to the Hot Mic podcast from your mobile device:
Here are the important stories to get you caught up for Wednesday, June 28:
1. Amid opposition from within their own party, Senate Republican leadership decided to postpone a vote on the proposed health care bill until after the July 4 recess.
2. Three Chicago police officers have been indicted on charges related to the alleged cover-up in the 2014 shooting death of Laquan McDonald.
3. A new Pew survey found confidence in the United States fell in the first months of President Donald Trump's term.
Direct from Mic's newsroom, Hot Mic keeps listeners informed with a daily run-down of top stories, breaking news and analysis from our news team.