Iran calls Supreme Court's travel ban decision "racist" and "unfair"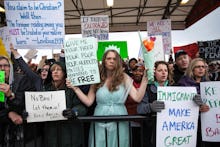 On Monday, the U.S. Supreme Court announced that it would take on the case of whether or not President Donald Trump's travel ban, an executive order barring citizens from six Muslim-majority countries from entering the U.S., during its next term, which starts in October.
The highest court in the land also modified the blocks placed on the ban by lower courts, allowing a limited version to go into effect while the court waits to hear arguments.. In the meantime, exceptions will be made for people with "bona fide" connections to the U.S.
On Wednesday, Iranian Foreign Ministry spokesman Bahram Ghasemi was quoted by Iranian state media, calling the court's decision to allow parts of the order to go into effect "racist" and "unfair," the Associated Press reported.
Iranian Foreign Minister Mohammad Javad Zarif also criticized the court's decision to allow a more limited version of the travel ban to go into effect, telling reporters in Berlin this week that the order was a "gift" for militant groups in their recruiting, Reuters reported.
Zarif also tweeted on Tuesday, "A bigoted ban on Muslims will not keep U.S. safer. Instead of policies empowering extremists, U.S. should join the real fight against them."