Senate Republican health care plan has dismal 17% approval, new poll finds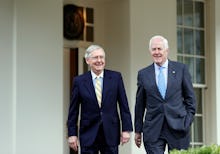 The Senate Republican health care plan got more bad news on Wednesday, after a new poll found just 17% of adults approve of the proposed legislation.
The poll — which was conducted by Marist University for NPR and PBS — comes after Republicans delayed a vote on the bill on Tuesday amid growing opposition within their own ranks.
The survey is unlikely to make the Republican effort to pass the bill any easier.
In total, 55% of adults disapprove of the Senate Republican health care plan, which the non-partisan Congressional Budget Office estimates will cause 22 million people to become uninsured over the next decade.
According to the poll, Republicans aren't even onboard with their own party's plan, with just 35% of Republicans saying they approve of the bill.
That number is even worse among independent voters, only 13% of whom say they approve of the plan.
Overall, just 21% of adults approve of the way Congressional Republicans are handling health care, while 65% disapprove.
Still, while the Senate Republican health care bill is immensely unpopular among the general public, there's still a chance it could pass.
Senate Majority Leader Mitch McConnell is currently looking for ways to appeal to both the conservative and moderate wings of his caucus in order to cobble together the 50 votes he needs for the bill to pass. Vice President Mike Pence would be the tie-breaking vote.