SNES Classic Preorder: How to get the UK and Japan Super Nintendo even if you live in the USA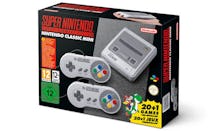 Trying to get in a SNES Classic preorder is difficult, no matter the corner of the world you reside. If you live in the United States, your Super Nintendo mini will look a bit different than the rest of the world's. SNES Classic preorder pages at stores including Amazon and Walmart depict a smaller version of the original U.S. console, but this isn't how it used to look in other regions.
Let's admit it: the rest of the globe gets a cooler-looking SNES mini than we do here in the States. But you can still get your fingers on one of those colorful controllers and the sleeker box it's attached to.
SNES Classic preorder: How to buy the UK, Germany, Japan, etc. version of the 2017 Super NES
Living in the United States gives us access to the boring gray and purple Super Nintendo. If you want the alternate-colored SNES you'll have to buy internationally. Some stores won't let you: EB Games, for example, does not ship internationally. The Nintendo Store UK does not allow it either. Who can you turn to? One option is Amazon.
Amazon UK offers SNES Classic preorders and does indeed have international shipping, as per their policy. Amazon Germany also has its preorder page up. Amazon Germany electronics can sometimes be shipped internationally, so cross your fingers that this includes their Super NES.
Game also carries the SNES Classic for preorder and provides international shipping, since it's an order under $100. Another option is ShopTo, which lets you ship internationally as well.
SNES Classic preorder: If only the console were in stock
Some foreign storefronts will let you shop online and ship to your U.S. address. The main problem is that most — if not all — online stores are currently out of SNES Classic preorders. This is unlike the U.S. online SNES pages like Amazon and Best Buy, which haven't taken preorders yet. People have actually put in their orders on SNES Classic sites outside the U.S.
If you'd rather own an international edition of the SNES Classic console, you'll need to check these foreign sites, and others, on a regular basis. Might we recommend setting up some alerts?
Check out more Nintendo gaming news and coverage
Looking for more Nintendo Switch news? Check out how blind gamers are using the Nintendo Switch and why you can't get your Mii to look quite like you. Nintendo's left Joy-Con issue turns out to be a hardware problem — here's how to solve it. Find out how to buy a console amidst the recent restock. Learn why the Switch cartridges taste so bad. Check out our comparison photos sizing up the Switch to the Wii U GamePad (part one and part two), or find out how to make use of ethernet without the dock and the best way to get alerts when new stock arrives.