This model broke down exactly what needs to change so women of all sizes can find a cute swimsuit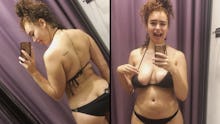 A universal truth: Shopping for swimsuits when you're not a size 0 or 2 is extremely difficult. Plenty of women have spoken out about this before, but model Sonny Turner has now taken things a step further.
In an Instagram post that has since gone viral, not only has she drawn attention to the pain and suffering that is finding a quality swimsuit when you're curvy, but she has also outlined exactly what needs to change so more women of all different shapes and sizes can actually find a cute swimsuit that fits.
"I am wearing the largest size from one of the most popular high street stores [that] sells in bikinis which is 12-14," she began the post, with pictures of an incredibly ill-fitting swimsuit to match. "High street store bikinis do not cater for women of my body type. Majority of online stores don't either. No one gets it, so for any upcoming designers, I got [some] tips for you."
Then Turner makes her demands. Among them:
BIG BREASTS NEED UNDERWIRE FOR SUPPORT FOR A YOUTHFUL LIFT
WE NEED CUP SIZES THAT CORRELATE TO BRA SIZES AND THEY NEED TO GO PAST DD
WE NEED STRAPS THAT AREN'T SO TIGHT ITS AS THOUGH OUR NECK IS ABOUT TO SNAP OFF
WE DESERVE MORE CHOICE IN THE SELECTION FOR OUR BODY TYPE THAT ISN'T JUST THE GENERIC BLACK SWIMSUIT WITH A KIMONO
WE'RE GONNA NEED YOU TO STOP USING MODELS WITH FAKE BOOBS THAT AREN'T A REAL DEPICTION OF WHAT THE BRA WOULD LOOK LIKE ON OUR REAL DROOPY ONES
And so on.
According to Turner, this swimsuit rant was a long time coming. "The first time I realized they were only catered for one body was when I was about 14, around the time I went through puberty and I realized these bikinis have no support for boobs like mine," she said in an interview.
Since then, finding a suit has been a consistent struggle, so what ultimately motivated Turner to write up this post is the idea of other women having exactly the same struggle as well this time of year.
"What motivated me was the thought that other women are probably feeling as though they don't have a bikini body," Turner said. "Especially around this time of year, there's more pressure to show skin. But it's not our bodies that need to change, it's society's idea of what a 'bikini body' actually is. And more brands need to cater to us!"
As for why Turner thinks swimsuits are still wholly unprepared to support the female form, she blames laziness.
"I think swimsuits are only made for one type of body simply because fashion houses are lazy," she said. "They want to make three simple sizes and hope we all fit into them. Some brands even only make 'one size fits all.' No it doesn't. We all have lumps and bumps in different places and need support [and] coverage in different places."
By speaking out though, Turner is proud to be one of the many voices on social media that are calling for this kind of change, which she hopes will eventually be heard by fashion companies themselves.
"I think more recently with the power of social media, more of us have a voice and we can use our platforms to help encourage change," Turner said. "I do think it will take high fashion industries to change as well, and then other brands should follow. But having one token plus model isn't good enough. There should be more than one. And there shouldn't be just plus size, there should be [models] in between too."