Fired Han Solo director Chris Miller tweeted a secret reference about the 'Star Wars' movie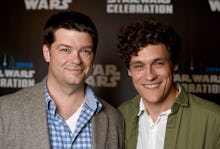 After Chris Miller and Phil Lord were let go from the untitled Han Solo movie, Miller returned to Twitter to let fans know everything is normal.
On Tuesday, Miller tweeted "situation normal" out to his followers. To the untrained Star Wars eye, the statement means nothing. But to those who know the galaxy far, far, away very, very well, it means everything as it's a reference to a Han Solo quote.
"Uh, everything is under control. Situation normal," Han Solo says in Star Wars: A New Hope. It happens when the character, alongside Luke Skywalker and Chewbacca, finishes saving Princess Leia after casually shooting up the detention center on the first Death Star.
Miller and Lord were fired from their directing duties on the Star Wars anthology movie on June 20. The directing team has worked on several movies together, including 21 Jump Street and The Lego Movie. They were let go as a result of creative differences and said that while that's often a lazy excuse in Hollywood, this time it was true.
"We normally aren't fans of the phrase 'creative differences' but for once this cliché is true. We are really proud of the amazing and world-class work of our cast and crew," the filmmakers said in a statement regarding their firing.
According to the Hollywood Reporter, sources revealed that the directing duo differed with Lucasfilm president Kathleen Kennedy and screenwriter Lawrence Kasdan over their vision for the movie.
Replacing Lord and Miller as director is Ron Howard. Howard revealed he's very excited to enter the Star Wars universe for the first time. He's been a fan of the franchise ever since Star Wars: A New Hope came out.
The situation remains normal and the untitled Han Solo movie is still set for release on May 25, 2018.
Mic has ongoing movie coverage. Please follow our main movie hub here.