Nearly 850 backlogged rape kits were found infested with mold in Texas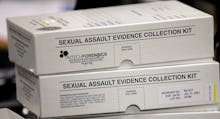 This week, officials in Austin, Texas, discovered that 849 rape kits sitting in storage had begun to grow mold on them.
According to the Austin-American Statesman, officials uncovered the moldy rape kits after an audit prompted police to take a closer look at 1,629 kits that had been stored in a refrigerator, some dating back to the 1990s.
Police have wiped down many of the boxes with a "bleach solution" per the advice of a Texas Department of Public Safety expert, though Assistant Police Chief Troy Gay later instructed employees to stop using the solution "to ensure this is the best practice."
Authorities have said so far there have been "no observable issues" that would prevent lab technicians from successfully testing the DNA samples inside the kits. Still, the optics of over 1,600 untested rape kits sitting on shelves — over half of them collecting mold — doesn't inspire any confidence in the criminal justice system's ability to bring justice to rape survivors.
Completing a rape kit requires sexual assault survivors to subject themselves to being swabbed, poked and prodded in the immediate aftermath of being assaulted. More often than not, this added trauma goes to waste: Across the United States, an estimated 400,000 rape kits remain untested.
During his tenure as vice president, Joe Biden made fixing the rape kit backlog one of his foremost initiatives, awarding $80 million in grant funds to the cause along with former Attorney General Loretta E. Lynch in 2015.
A number of non-government organizations and individuals have made their own efforts to end the backlog. In November 2015, a black women-led group called Enough SAID — Enough Sexual Assault in Detroit — raised the funds to test 2,000 of Wayne County's more than 11,000 untested rape kits.
Meanwhile, other groups continue to focus on spreading awareness to elected officials, who have it in their power to apply for grants from the federal government. To that end, a group called Test400K sent a standard sexual assault evidence kit to every U.S. governor to raise awareness about the ongoing problem in August.
"Most of us think that what happens is like what we see in movies or on TV — that it's a quick investigation and they're expediting your case to solve," Julie Smolyansky, Test400K's co-founder, told Mic at the time.
"That doesn't happen — most cases end in the hospital after the rape kit is collected."