Why Republicans aren't saying health care is over and Democrats aren't ready to cheer its defeat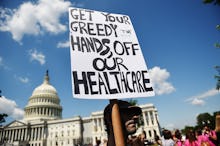 This is Mic's daily read on Donald Trump's America. Welcome to the political newsletter that can find few things in politics more universally unpopular than the Senate health care bill.
Want to receive this as a daily email in your inbox? Subscribe here.
The pressure is on, for Republicans and Democrats alike.
As Senate Majority Leader Mitch McConnell surprised his colleagues by postponing the vote on the Better Care Reconciliation Act, the Kentucky Republican promised to continue negotiations over the July 4 holiday. Moderate and conservative Republican senators proved too far apart to reach 50 Republican votes this week. As many as 14 of the 52 Republican senators were thought to be opposed to the bill; five were publicly against the proposal before McConnell pulled the vote.
Among the opposition, no one is declaring victory. Opponents of the bill recognize this setback for the GOP may be temporary, not permanent. "It's not over till it's over and it's not dead until it's dead," Sen. Chris Van Hollen (D-Md.) told the Atlantic. Van Hollen runs the Democratic party's campaign wing in the Senate.
Democratic Senatorial Campaign Committee spokesman Dave Bergstein put out a statement Tuesday, saying, "Republicans will not stop until they force Americans to pay more for less care. They'll now retreat back behind closed doors ... " MoveOn and Indivisible are continuing their planned protests at the U.S. Capitol this week. Grassroots organizers in Nevada and Maine, home to moderate Republican senators who could be the deciding votes on a health care bill, told Mic they will keep up the pressure.
Today's question: We've hit a lull in health care reform. Given this break, do you think the Affordable Care Act needs to be reformed? What needs to be changed? Email us at trumpsamerica@mic.com.
We're seeking your support to expand our coverage of Donald Trump. As little as a $1 a month will give you access to an exclusive group to interact with Mic journalists and grow our reporting. Learn more here.
What we're watching
Today: Health care is dead. Or is it?
More: A small minority of Americans showed support for the Senate health care bill.
Even more: The Environmental Protection Agency is now targeting a regulation that protects clean water.
Yes, more: Another cyberattack is holding people's computers ransom.
Trump's agenda today: Speaking at the Republican National Committee dinner. Meeting with "immigration victims" to push for House passage of anti-sanctuary city bills. Hosting the World Series champions, the Chicago Cubs.
But wait, what happened?
The plan was always dubious: Unveil the health care bill. Appease moderates with additional funding. Control Medicaid spending in the long-term to placate conservatives. Allow senators to offer amendments to publicly show their role in altering — or "improving" — the legislation. Allow two defections, get to 50 votes and have Vice President Mike Pence break the tie.
In the end, McConnell could not get to step one: building a coalition among his own party. But don't think he won't be back, Mic's Emily Singer advises.
And what did Donald Trump do? Very little, by design. McConnell preferred negotiating with Pence, the New York Times reported, and kept the president out of daily discussions. Trump came in near the end to pressure hardline conservatives, and hosted a meeting of Republican senators Tuesday afternoon, but did not take the hands-on approach he had in helping pass the House version.
Talk about politically toxic:
Nationally, 17% of Americans approve of the Senate health care bill, according to a new poll from NPR. A poll released by the American Medical Association found that of voters in seven states home to key Republican senators, no more than 26% in any state were supportive of the bill. Case in point: Check out the front pages GOP senators woke up to Tuesday morning.
The bill is substantially more unpopular than Trump and about as disliked as Congress overall. But it's not quite as bad as the House-passed health care bill. One poll at the end of May showed only 8% of Americans wanted that proposal to pass the Senate unchanged.
News and insight you cannot miss:
Scott Pruitt's Environmental Protection Agency wants to undo Barack Obama's Clean Water Rule. That could put water supplies at risk for 117 million Americans.
The president made a point of admiring a female Irish journalist's "nice smile" during an Oval Office phone call with Ireland's leader.
Another ransomware attack — where computers are frozen and released in exchange for digital currency — struck desktops across the world on Tuesday. The cyberattack spread rapidly among computers linked by a common network and follows in the footsteps of last month's ransomware hacking, which used software tied to the U.S. National Security Agency.
Must-watch video from Mic: How a lifelong Republican became an anti-Trump, Jon Ossoff-supporting activist.